Meet Time: 7:30 AM
Duration: 4-5 hrs
Distance: ~ 15km

Elevation: Mostly Flat
Embark on a journey, hidden just 20 minutes northeast of Saigon to the forgotten island of Little Mekong. Begin with an immersive experience in Thanh Da markets, where vibrant colors, scents, and chatter ignite your senses, offering a taste of local culture. Leaving the markets, discover the island's secrets – from serene lotus lakes to tranquil fisherman villages. And don't miss the enchanting mini tropical Mekong jungle, a hidden gem that'll make you feel like Indiana Jones on a bicycle expedition.
What's Included:
What's Included:
Bicycle
Helmet
Water
Drinks
Exotic Fruits
Accidental Insurance
Tour Leader
Support Guide
First Aid Kit
Ponchos
Smiles & Lasting Memories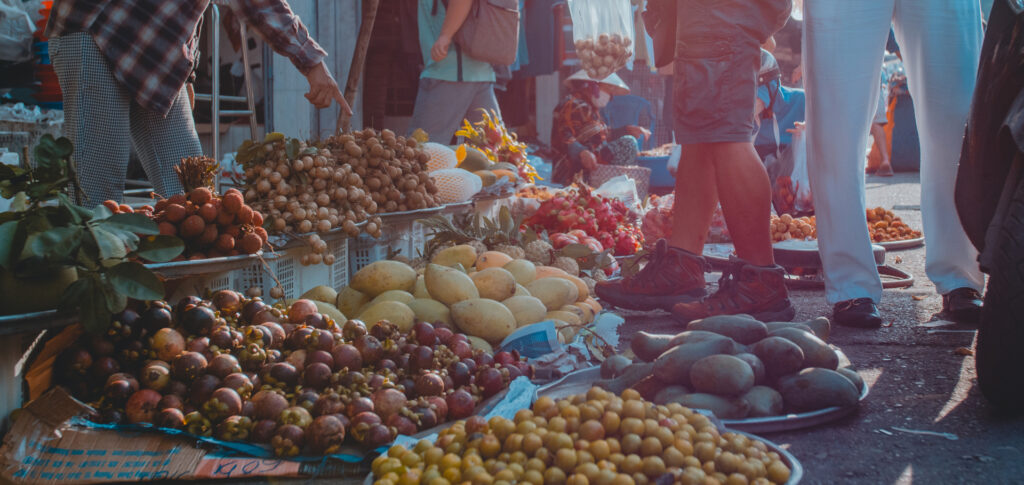 The Hidden Island



A Journey Beyond Saigon's Buzz

Embark on an exciting journey away from the urban hustle and bustle, just northeast of the vibrant city of Saigon. Here, a hidden treasure known as the Little Mekong Island awaits, its secrets waiting to be discovered.

Your adventure begins in the heart of this captivating island, where the Thanh Da markets offer an immersive experience like no other. Wander through the lively stalls, letting the vibrant local culture envelop you. The market's vibrant colors, aromatic scents, and the animated chatter of locals will awaken your senses, giving you a tantalizing taste of the island's rich heritage.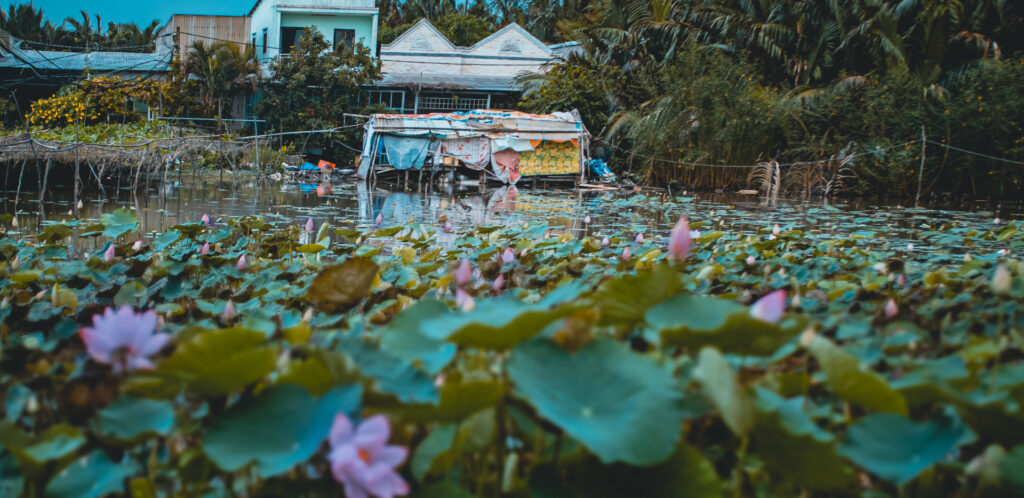 City to Serene Countryside



Pedal through Lotus Lakes

As you leave the markets behind, a world of wonders opens up before you. Brace yourself for the awe-inspiring beauty of serene lotus lakes, where the delicate blooms create an ethereal atmosphere that transports you to another realm. Pedal through tranquil fisherman villages that seem frozen in time, their idyllic charm offering a serene respite from the modern world.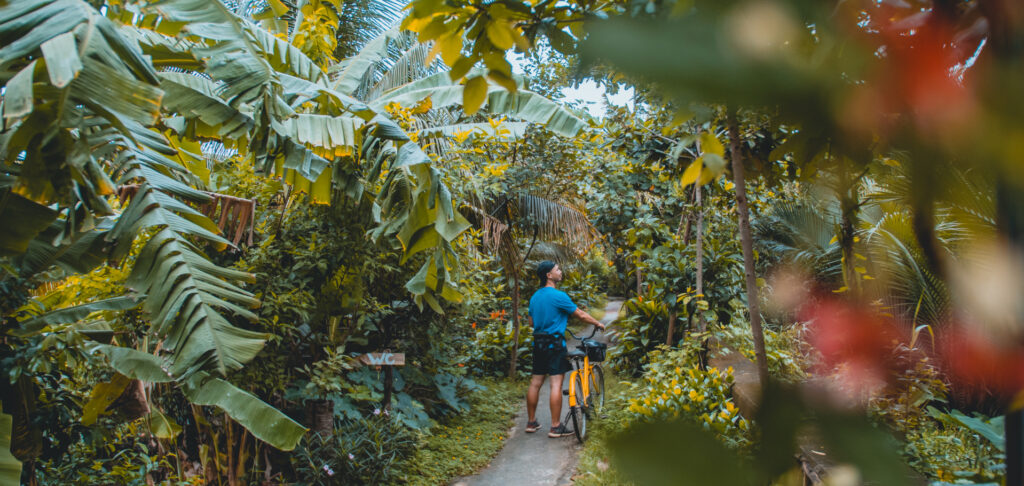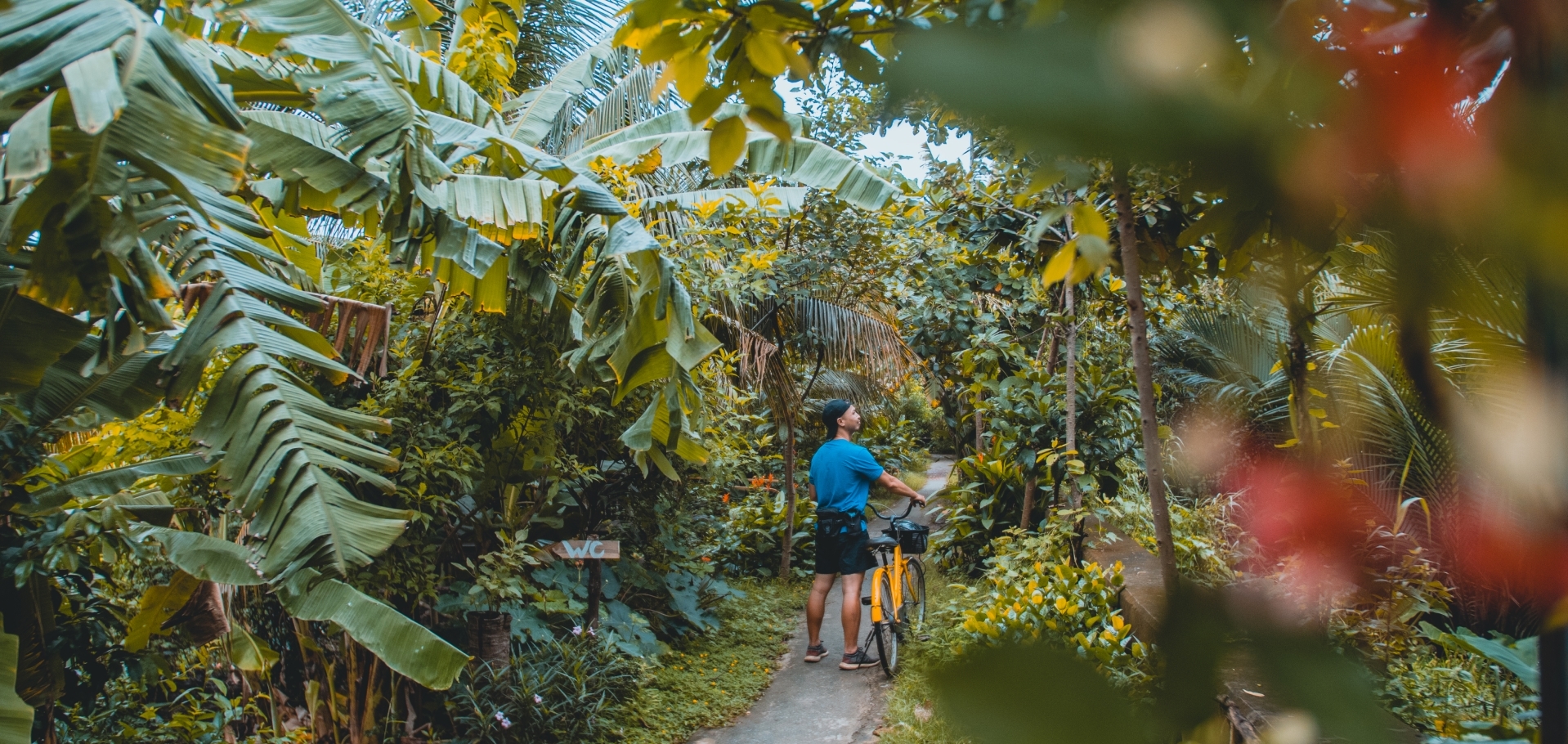 The Enchantment of Little Mekong:



Historic Ho Chi Minh Railway Track

More marvel awaits as you uncover the enchanting mini tropical Mekong jungle. This hidden gem, veiled by lush foliage and vibrant flora, invites you to embark on a bicycle expedition like no other. Feel the thrill of adventure as you navigate through this captivating oasis, channeling your inner Indiana Jones in a quest that blends exploration and exhilaration.

Step into a world that's a mere heartbeat away from the city, yet a world apart. The journey promises to be more than a cycling experience – it's an immersion into the soul of Saigon's countryside, a chance to uncover its secrets and create memories that will forever linger in your heart.
Book With Us
Today
Slide into our DMs or drop us an email, we're here to make it easy for you to reach out and start the conversation
Meet Up Location
Meeting Address:
TK46/19 Hẻm Bến Chương Dương, Cầu Kho, Quận 1, Thành phố Hồ Chí Minh, Vietnam.
Please arrive 15 min early to check in.
Plan for bad commuting traffic if you are arriving by vehicle.
Saigon, Ho Chi Minh City Cycling Experiences
Dive into Authentic Adventure on Two Wheels. Roll with the locals & connect with the heart & soul of Saigon.