Top 15 Awesome Things to do in District 1 Ho Chi Minh city
District 1 is not only one of the most modern districts in Vietnam, but it is also one of the oldest when it comes to historical buildings built during the French and American periods.
1.Visit historical places
Most tourists often choose District 1 to stay for convenient travel and visit places of interest quickly, one of the historical buildings you cannot miss when learning about District 1 is visiting historic attractions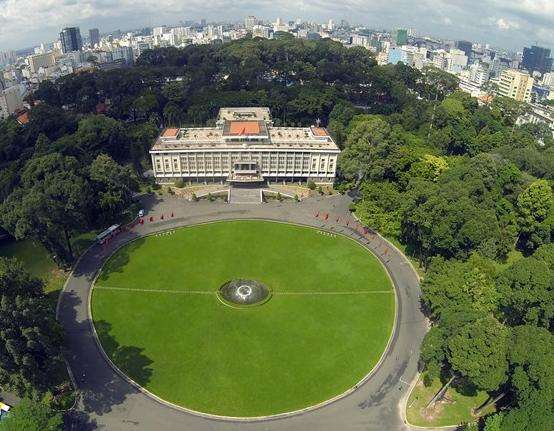 – Independence Palace
Having undergone many historical upheavals, the most recent change was in 1963 when the building was redesigned after a coup against the current South Vietnamese president.
The building is also a historical witness when the North Vietnamese army won the victory in 1975 and drove a tank to bulldoze the building's protective fence.
Today the Independence Palace is a famous place for tourists in Saigon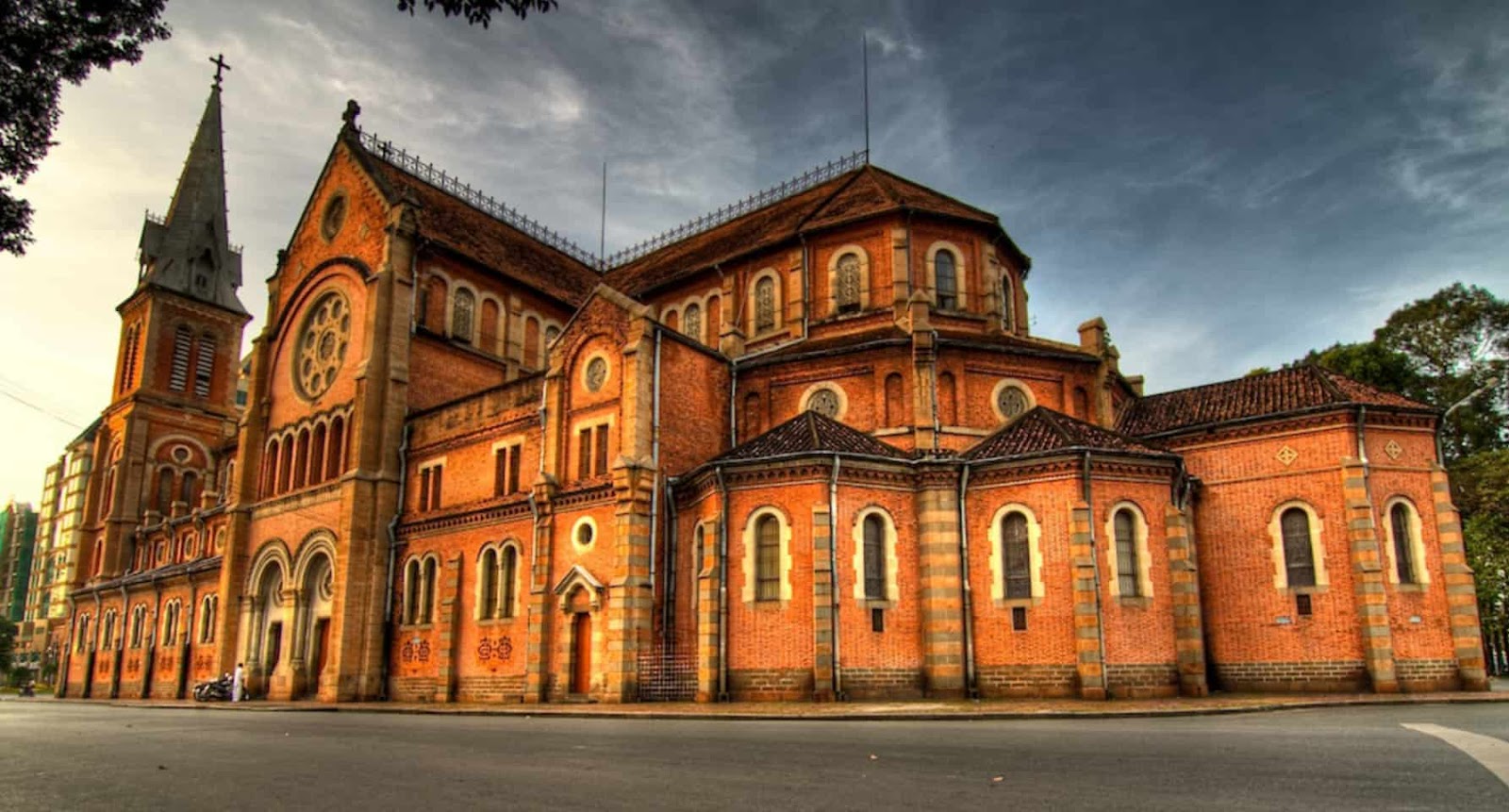 – Notre Dame Cathedral
Notre Dame Cathedral is a short name for Notre Dame Cathedral in Saigon, officially known as the Basilica of Our Lady of the Immaculate Conception. Notre Dame Cathedral in which district? Notre Dame Cathedral is located at Paris Commune Square, Ben Nghe Ward, District 1, City. Ho Chi Minh.
The church has a total length of 91m, and a width of 35.5m, the main dome is 21m high and the two bell towers on both sides are nearly 57m high. The architecture of Notre Dame Cathedral is bold in ancient French architecture, built according to the project of architect J. Bourard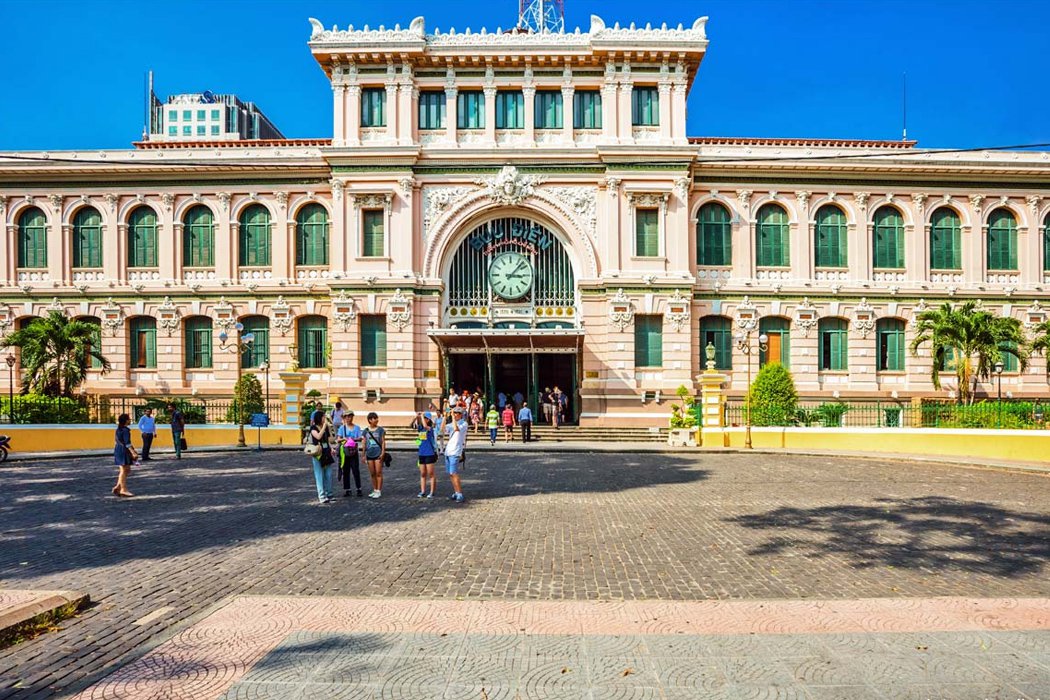 – City Post Office
Saigon Central Post Office is located opposite Notre Dame Cathedral, so it is very convenient for visitors to move around.
The Central Post Office was built between 1886 – 1891 by the famous French architect Gustave Eiffel – who is famous for designing the Eiffel Tower, and the Statue of Liberty. In 1864, the stork stamp was the first stamp to appear in Vietnam, appearing on letters from Saigon all over the world.
In 1891, a new post office was officially inaugurated. This place recorded the imprint of Vietnamese – French culture and witnessed many historical ups and downs.
2. Shopping at Ben Thanh market
Ben Thanh market construction project has appeared since 1894, but it was not until 1912 that this market started construction. The opening ceremony of this market started on March 28, 1914.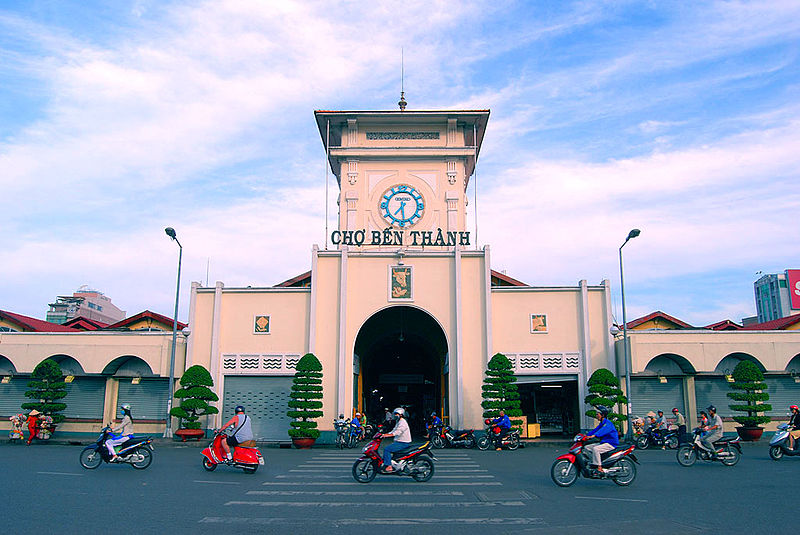 After many stages of restoration and construction, the cage houses and stalls inside the market have been renewed. However, only the outside architecture along with the clock tower of the market preserved the architectural beauty of the old times.
The commercial function inside the market remains the same, visitors can buy souvenirs, clothes, shoes and enjoy Saigon cuisine sold right in the market.
However, you should remember that the prices in the market are not clearly listed, so when asking the price from the seller, you should pay the price down from 50% – 70%. It's totally true, remember
3. Jade emperor pagoda
For residents or tourists coming to Saigon, the name Ngoc Hoang Pagoda is no longer strange. This is considered a sacred place, a place to pray for fate and children.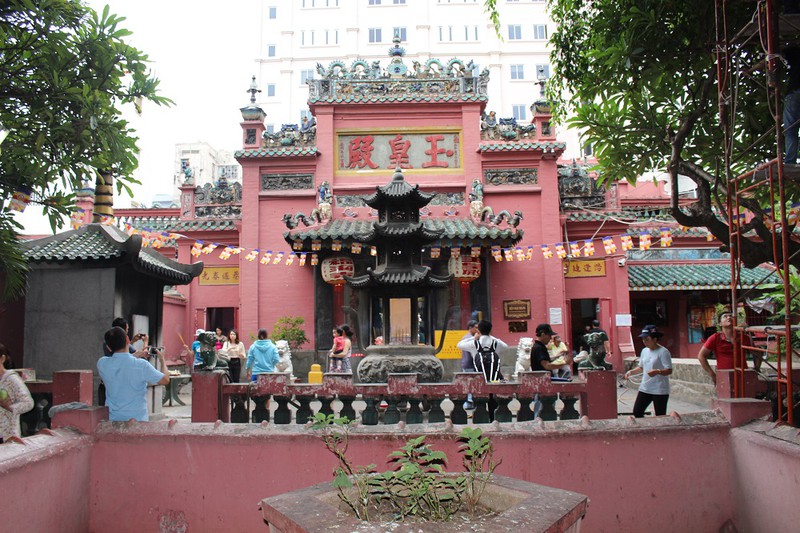 The Jade Emperor Pagoda was built in the early 20th century by a Chinese man named Liu Ming. The original purpose of the pagoda was to worship the Jade Emperor and was also the place for Luu Minh to hold a secret meeting to overthrow the Manchu Dynasty.
It was not until 1982 that the temple was handed over to Venerable Thich Vinh Khuong to take over, officially belonging to the Vietnam Buddhist Sangha. In 1984, the temple was renamed Phuoc Hai Tu pagoda.
Through the long process of history, until now, Ngoc Hoang Pagoda has become a famous tourist destination in Saigon. It is famous because people believe that the temple is very sacred, so they often come to pray for children, pray for luck, and peace for the family.
in 2016 during his last year as president of the United States of America. Obama made time to visit this ancient temple in his busy schedule
Address: 73 Mai Thi Luu, District 1
4. Ton That Dam apartment
Ton That Dam Apartment, District 1 has an age of 133 years. Both ancient features and modern features have been upgraded and repaired as a bar, coffee shop, clothing shop… serving young people and tourists.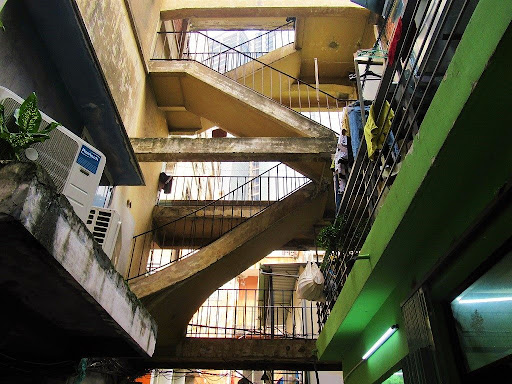 Nestled among the high-rise buildings in Saigon, Ton That Dam apartment building always brings the book back, a book that is especially attractive to those who love nostalgia and want to find peaceful spaces.
Address: 14 Tan That Dam street, District 1
5. Join a cooking class
One thing that makes visitors remember Vietnam the most after the beautiful scenery and people is Vietnamese food.
What could be better when you take a short cooking course and after you come home you can cook these wonderful dishes by yourself such as: spring rolls, vermicelli with grilled pork
Hoa Tuc cooking class can be a good option for you
6. A O Show
Receiving much love and acclaim from audiences, A O Show brings on stage humorous and sophisticated stories about Vietnamese rural and urban life, through simple props, contemporary cirque, and unique live music.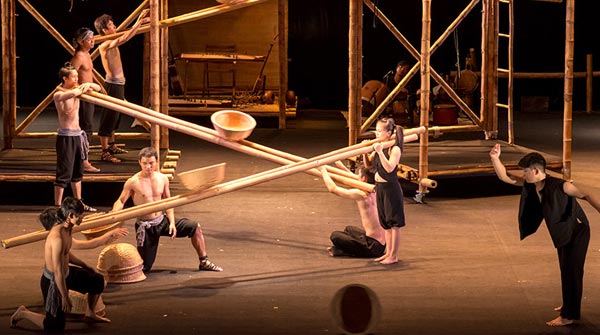 With more than 60 minutes A O Show, audiences are invited into a sophisticated, high-level of visual and sound spectacle that linger unforgettable feeling.
Using only simple bamboo props, A O Show makes a rustic yet beautiful portrait, from fishing basket boats, and bamboo bridges to hectic modern city. A mix of cirque nouveau, acrobatics and contemporary dance fascinates audiences, along with unique live music from folk instruments and beatbox.
Toured the world since 2015, A O Show continues on its journey to spread Vietnamese culture to the world and "conquer" audiences across 4 continents, also art lovers in Vietnam.
Contact: Fanpage
7. Cau Mong Bridge
Mong Bridge is a bridge over Ben Nghe canal, connecting District 1 and District 4 of Vietnam. This is considered one of the oldest bridges in this city. The first version of the bridge was a swing bridge, when the tide was high, the bridge would turn to the middle so that boats could pass without touching the underside of the bridge.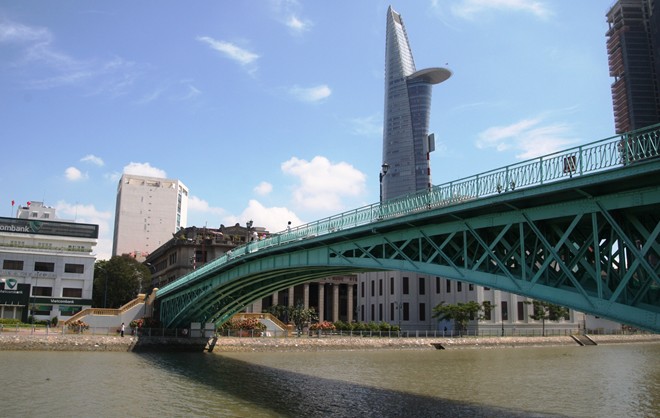 The bridge was built by the French shipping company Messageries Maritimes in 1893-1894, 128m long, 5.2m wide, 0.5m wide pavement, built of solid steel. The bridge is made in the style of a rainbow, so folk call it Mong bridge
During the construction phase of the East-West Highway and the Saigon River Tunnel, the Mong bridge was completely dismantled, after this work was completed, the Mong bridge was reassembled according to the original and reinforced the foundation pillars, equipped with equipment artistic lighting system.
8. Take a walk at Nguyen Hue walking street
Once a busy motorbike street, later the Saigon city government decided to change and establish a pedestrian street here.
Especially on each New Year's occasion, this place organizes a flower street exhibition that is very interested by the city people, and now that road has become a walking path with many works items, serving the needs of tourists. People's demand for sightseeing and entertainment is not only in the spring but also all days of the year.
9. Saigon morning coffee
Monday Morning Coffee is located on the 7th floor of an apartment building at 12 Vo Van Kiet. If anyone didn't know, they wouldn't think there was a cafe here. I'm not sure if it's actually called a cafe or not. Just know this is a place for coffee lovers and coffee-making enthusiasts to gather, exchange, make and enjoy delicious cups of coffee. The design of this cafe is like a room of a small family
10. Thao Cam Vien
Saigon Zoo and Botanical Garden is an animal and plant conservation park located in Ben Nghe Ward, District 1, Ho Chi Minh City, opposite the Independence Palace. This is the eighth oldest zoo in the world with a large campus, located near the downstream of Nhieu Loc – Thi Nghe canal.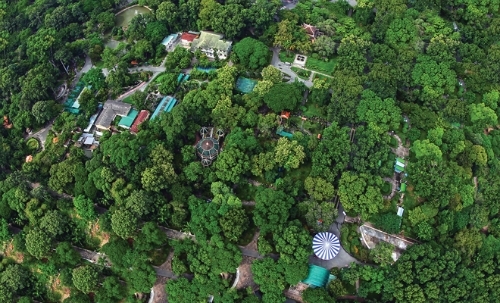 Currently, Saigon Zoo and Botanical Garden are nurturing more than 1,300 animals of 125 species, with many rare species such as star pheasant, douc, yellow-cheeked gibbon, yellow deer, fire leopard, clouded leopard, .. Moreover, at this zoo, there is an extremely green space, covered by more than 2,500 trees with more than 900 species of plants preserved.
Address: 2 Nguyen Binh Khiem, District 1
11. Book Street
According to history, Nguyen Van Binh street is one of the oldest streets of Saigon. During the French colonial period, the street was also known as Hong Kong Street. On February 21, 1897, the name was changed to Cardis, and on October 19, 1955, the new street was renamed Nguyen Hau. On 7/4/2000 renamed Nguyen Van Binh as today.
Since its construction until now, the book street has always been a suitable place for all ages to come to learn about books, visit and explore every weekend. This is the first complex book street in Vietnam with no opening time, everyone can experience and enjoy the reading culture at Ho Chi Minh City's book street.
Address: Nguyen Van Binh street, District 1
12. Water Puppet Show
Water puppetry is an indispensable spiritual dish of Vietnamese people. The water puppet show is completely on the water. The main actors are wooden puppets, combined with the effects of colorful lights and sounds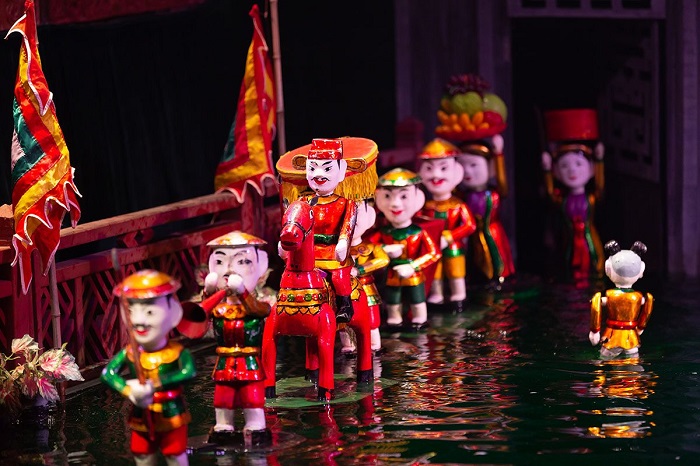 Performing puppetry in the water will require more difficult and elaborate techniques than performing on land. The water puppeteers stand behind the performance curtain to control the puppets in every move very skillfully.
To make the water puppet show was successful, it is a very professional performance with a combination of body movement and its dramatic parts and actions. The puppet is usually made of fig wood material.
After the puppet is shaped, it will be designed and cut to have a shape suitable for the character. After that, it is polished and decorated with vivid colors to make the performance more special.
2 water puppet show theater you can book from
Rong Vang Water Puppet Show
Contact:  Fanpage
Southern Dragon Water Theater
Contact: Fanpage
13. Tao Dan Park 
Tao Dan Park is an ideal rendezvous for family walks, nursing mornings for seniors, or dates for young couples.

With more than 1,000 trees in a 10-hectare campus, Tao Dan Park is like a "green lung" of the city, creating shade and fresh air amidst the sweltering sun in the city. Not only has a green space for everyone to come and relax, Tao Dan Park is also a familiar place for fairs or exhibitions, and is also home to many attractive dining venues, offering a wide range of experiences. joyful experience for you.
Address: Truong Dinh, District 1
14. Tan Dinh Market 
In the past, Tan Dinh market was considered a prosperous place of rich Saigon people.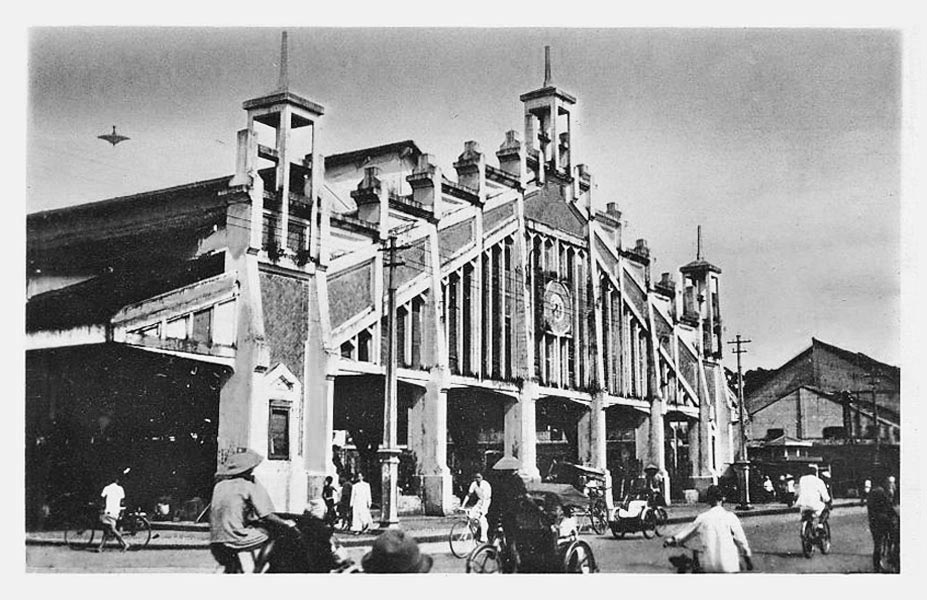 Located on Hai Ba Trung street, Tan Dinh market was built in 1926 with 4 main doors. Through many fluctuations of time, until now, Tan Dinh market has not changed much but still retains the old architectural style.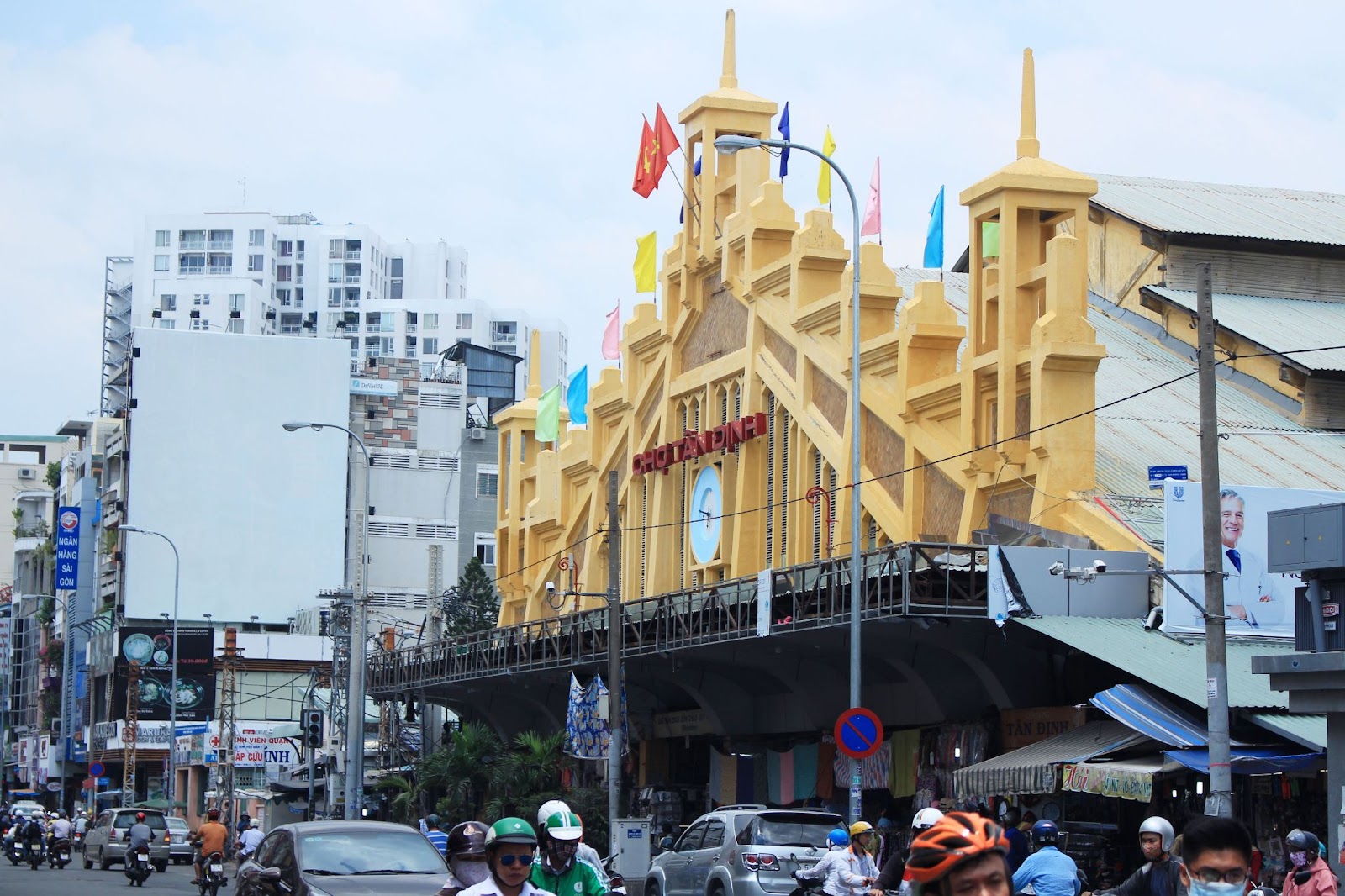 In particular, the market is still famous as a prestigious fabric business, and the dishes sold here are all true to Saigon.
Now
Address: 336 Hai Ba Trung street, District 1
15. Take a waterbus 
Another unique way to visit the city from District 1 is by waterbus. The pier is located right along the river saigon, you can move there to catch the waterbus
Address: 4 Ton Duc Thang Street, District 1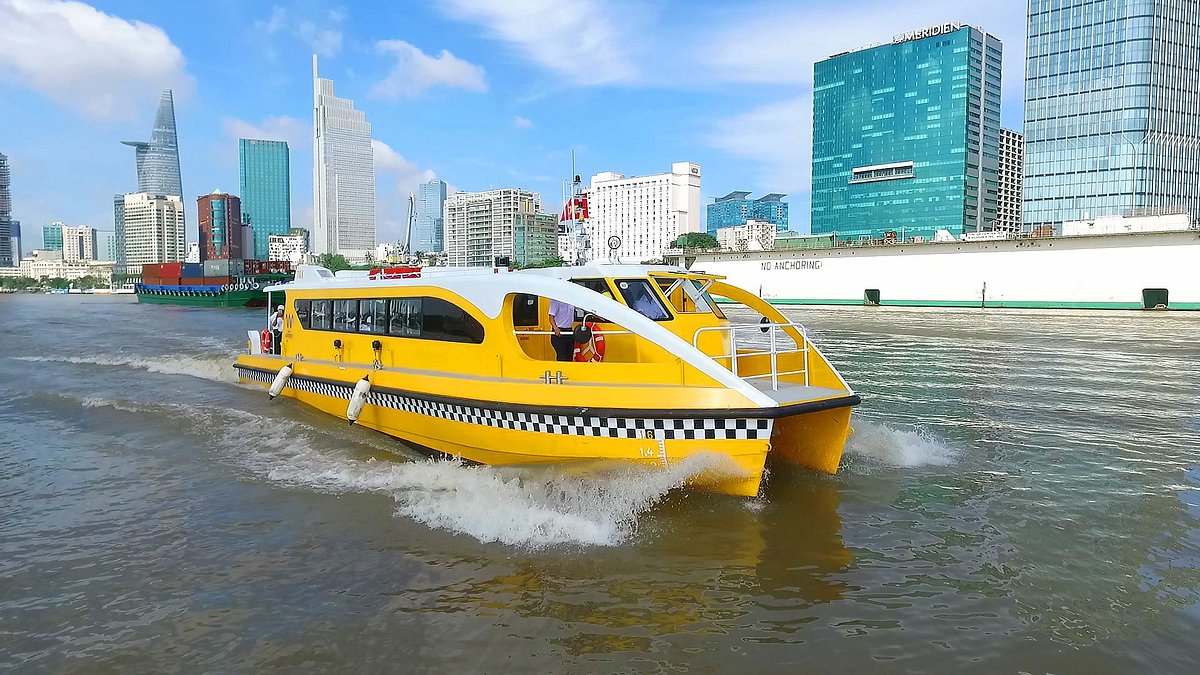 If you are also looking for guided tour to discover a deeper side of Saigon, bike tour in Vietnam can be a great choice!