12 Awesome Things to Do in Chinatown (Cho Lon) Saigon – Vietnam
The brief history of Cho Lon – Saigon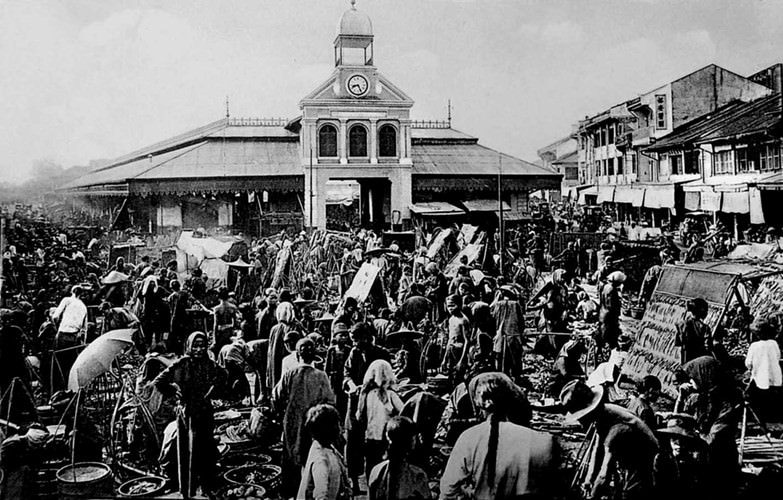 Cho Lon Old Market 
In the modern history of Vietnam, the place Saigon – Cho Lon appeared quite a lot, which was the political, economic and cultural center not only of the Southern land but also of the whole country and Indochina.
It's called Cho Lon because that's where there used to be two very big markets. The latter market was bigger than the previous one. Today, the name Cho Lon refers to a large area on the north bank of the Ben Nghe – Tau Hu canal in Ho Chi Minh City. Currently, Cho Lon is considered the largest "Chinatown" in the world.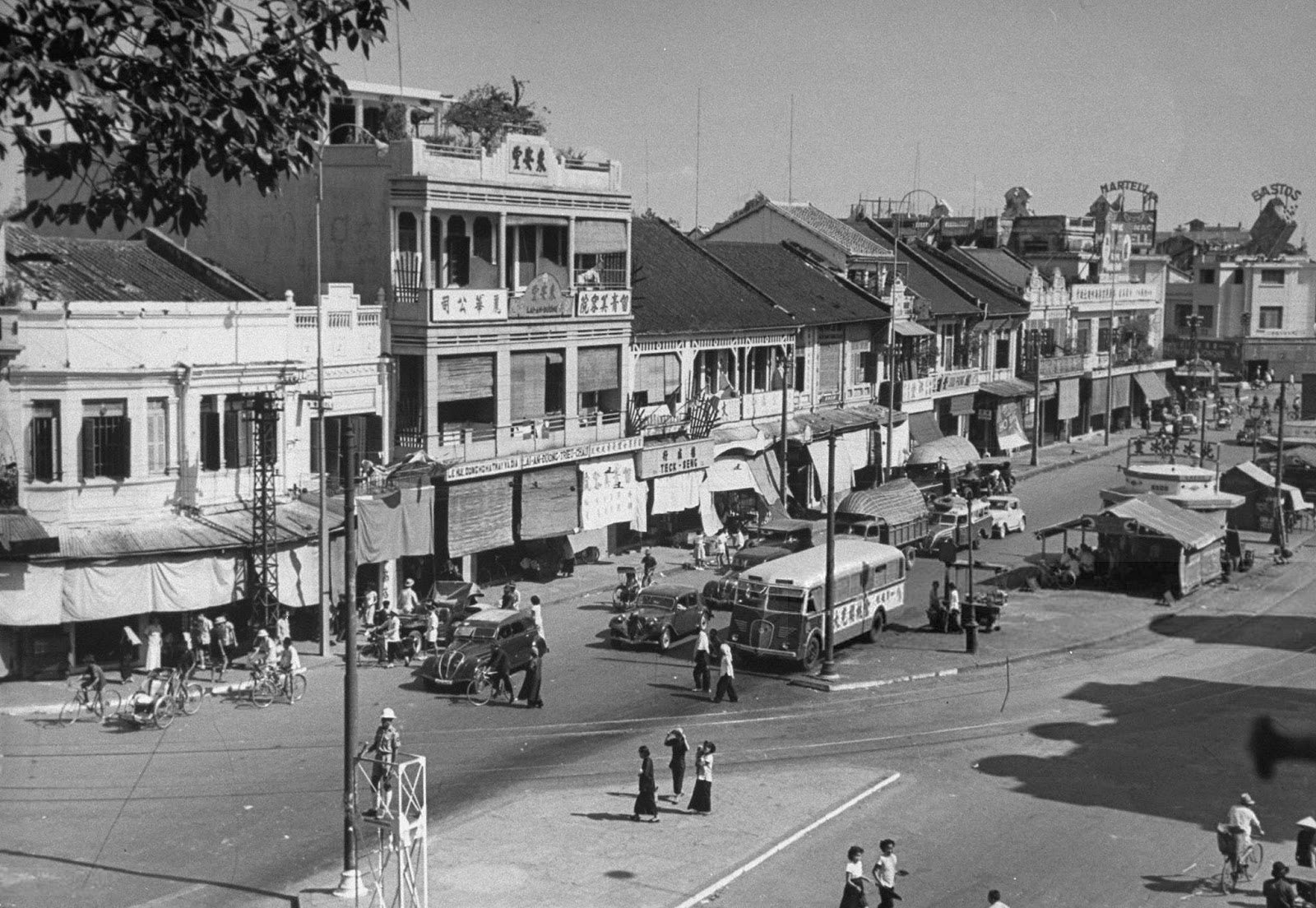 The street of Chau Van Liem 
Since the early 17th century, this almost derelict land has been settled by Vietnamese and Chinese people. The harmonious life gave birth to generations of Chinese-Vietnamese people. They dressed as Vietnamese but spoke Cantonese, gathered in a village, called Minh Huong village. The word Ming 明 (Ming dynasty) indicates the origin of the Chinese people who came here. Initially, people used the word Huong 香 (Huong Hoa), in 1827 King Minh Mang changed it to the word 鄉 (village). Since then Minh Huong means Village of the Minh people.
The Minh Huong people set up a female market, called Tan Canh market, later changed to Tan Kieng, now a Tropical Hospital along Vo Van Kiet Boulevard on the north bank of Ben Nghe canal.
In 1679, two groups of Chinese "boat people" migrated to Thuan Hoa. Lord Nguyen Phuc Tan let them go to the South to reclaim and establish hamlets. General Tran Thuong Xuyen's group went up the Dong Nai River to Bien Hoa and Gia Dinh, and the group of leader Duong Ngan Dich went up the Tien Giang River to Ben Tre and My Tho.
In 1718, when the Siamese army attacked Ha Tien, the Chinese people who followed General Mac Cuu to settle here a few decades ago had to flee to Minh Huong Village. Gradually, Minh Huong village became the center of attraction for Chinese people from all over the world to come to do business and live, making Tan Kieng market more and more expanded and more bewildering.
At that time, Minh Huong village on the Ben Nghe canal and Cu Lao Pho on the Dong Nai river were the two busiest commercial centers in the South, both built and developed by Chinese people.
In 1776, the Tay Son army massacred and discovered the new emperor Cu Lao Pho. The survivors ran to take refuge with their compatriots in Minh Huong village. In 1782, Tay Son troops retreated to destroy Minh Huong village. When it was peaceful, those who had escaped death returned and dragged their relatives from their homeland to do business. Before long, the population here skyrocketed. One Tan Kieng market is not enough, so they must set up another, bigger market, called Cho Lon.
In 1928, the giant Quach Dam bought land in Binh Tay village to build a very grandiose market, called Binh Tay Market. Because it is bigger than Cho Lon, it is called New Cholon, and old Cho Lon is… Cho Lon Cu. Since the French cleared Cho Lon Cu to build a post office, now the District 5 Post Office, there is only one Cho Lon New Market. People omit the word New to make it short because it has run out of meaning.
The original name of Saigon 
Thus, the origin of the name Cho Lon is the ancient market of the Minh Huong people, then changed to Binh Tay market. Today, people still call Binh Tay market as a market… Binh Tay, while the place name Cho Lon refers to a busy trading area beside two interconnected canals: Ben Nghe – Tau Hu.
There is a contradiction, which is the change between the two places Saigon and Cho Lon.
When Minh Huong village was expanded into many hamlets and hamlets, becoming an important commercial center of Southeast Asia, there was a need for written transactions. People write the name Cho Lon in Chinese as 堤 岸, the Sino-Vietnamese sound is De Ngan, the Cantonese sound is Thay Ngon or Thi Ngon, transliterated into Vietnamese as Saigon.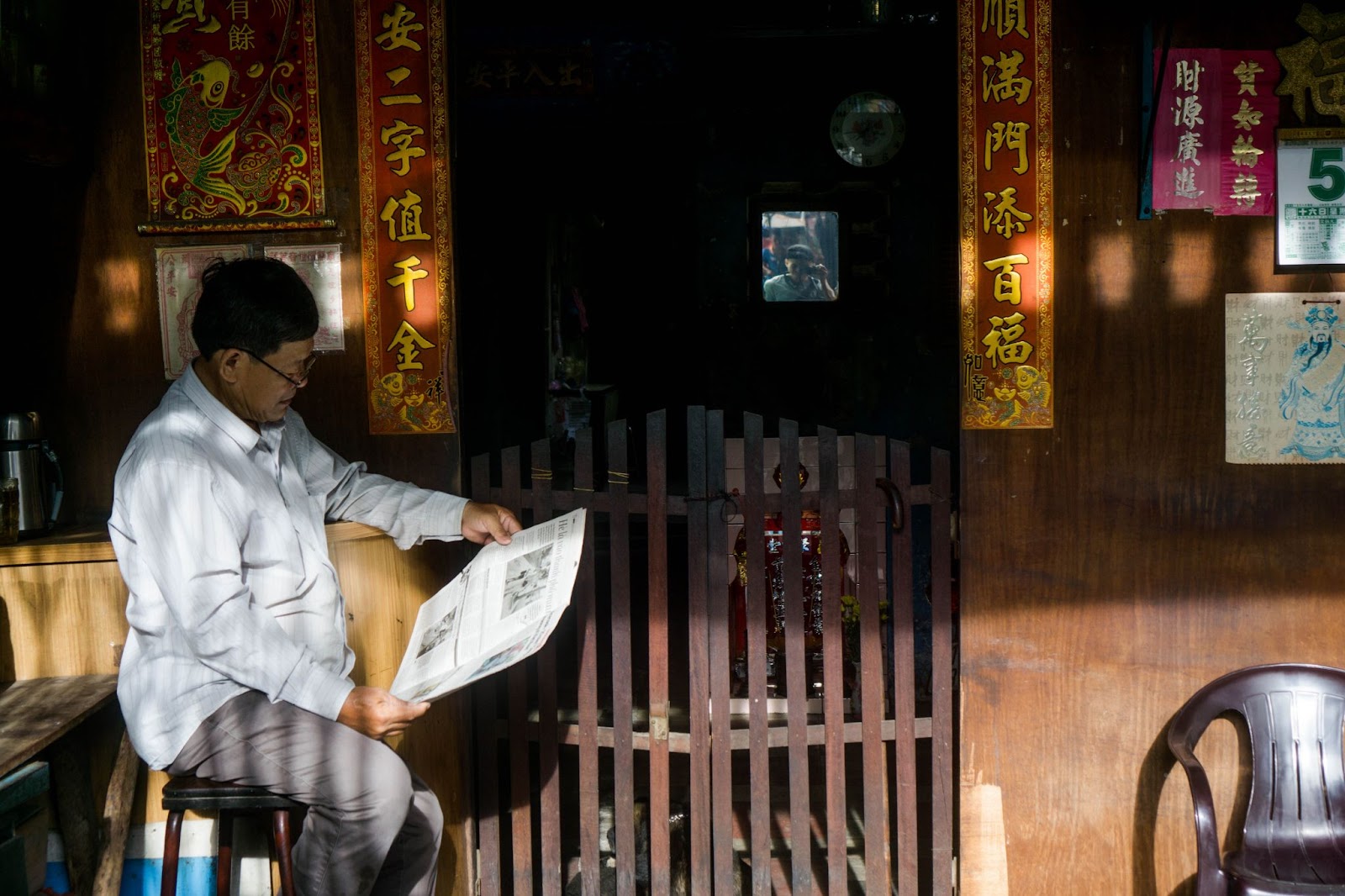 Top 12 things to do in Cho Lon – Saigon
1. Pay a visit to Cha Tam Church 
Cha Tam Church is located on Hoc Lac Street, District 5, Saigon. In 1900 Cha Tam church was built and two years later it was completed. This is a temple built for the Chinese. Father Pierre d'Assou, whose Chinese name is Dam A To, transliterated as Tam An Su, is the one who built it. He was also the first father of the church.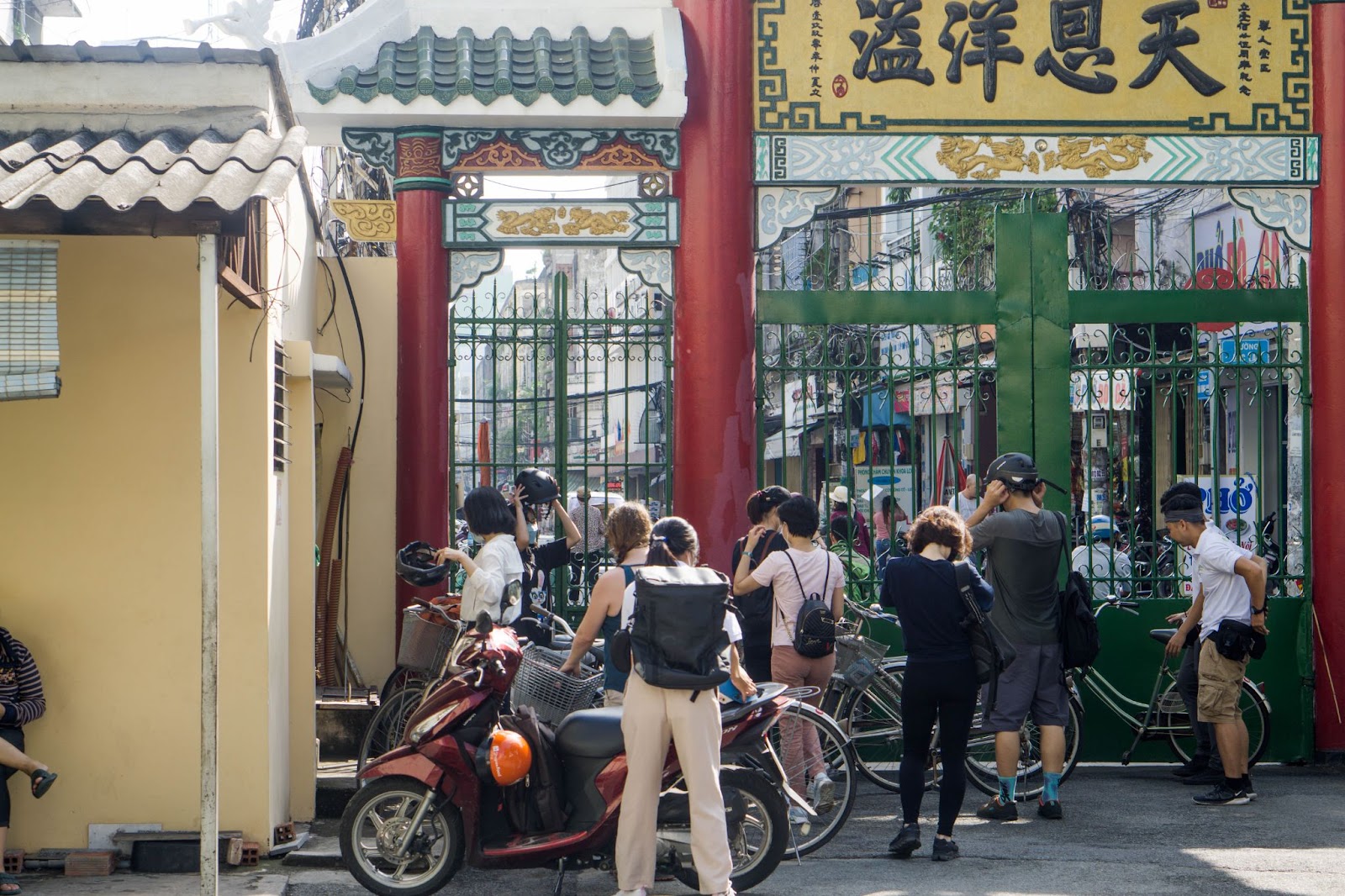 The gate of the church has a roof of a knife, all carved in Chinese characters. This is designed in the style of a three-way gate, an architectural style commonly seen in palaces and temples. Especially on the two sides of the cross there are 2 fish symbolizing the image of "carp turning into a dragon".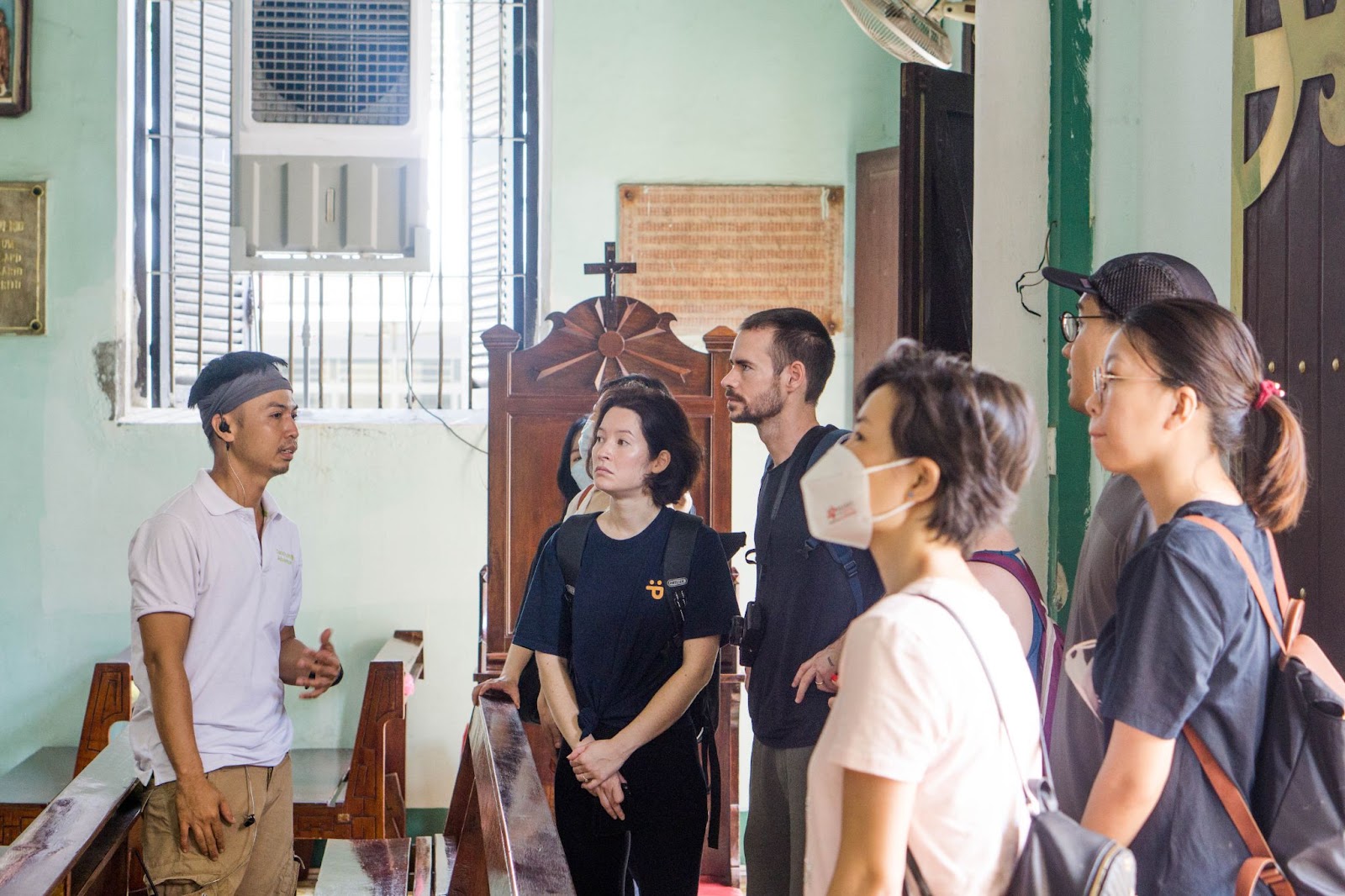 Father Tam died in 1935, his grave is located next to the entrance to the church. Inside the cathedral has the usual architecture like in other churches built by the French in Vietnam. However, the four pillars of the sanctuary are painted red, a characteristic of Chinese religious architecture.
Cha Tam Church is also known as the place where the President of the Republic of Vietnam at that time, Ngo Dinh Diem and his brother Ngo Dinh Nhu went to pray before being arrested by the coup forces and shot in 1963.
2. Explore the Binh Tay Market (Cho Lon Market)
Binh Tay Market is the largest wholesale market in Saigon with 12 gates, both the main gate and the side gate, designed by a Chinese merchant, so the market has Asian architecture, shaped like a Bagua. Binh Tay Market was built according to Eastern architecture but combined with modern Western techniques, so Binh Tay is considered the largest and most beautiful market in Saigon. This is also the place where the Chinese people gather and is also the main shopping center of the Chinese in Vietnam.
Binh Tay Market has so far had more than 80 years of existence and development. Although facing fierce competition when the market develops supermarket systems and fashion stores, … but Binh Tay market has always maintained its position, always being the largest wholesale hub in Saigon.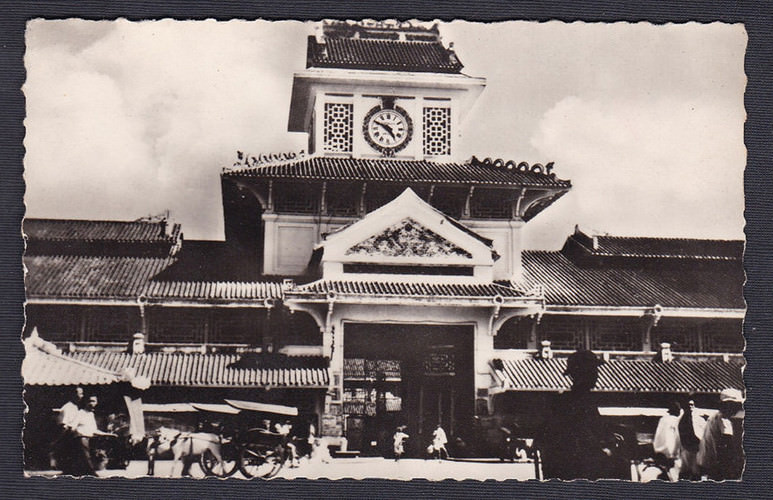 Binh Tay market in the past ( source: collection )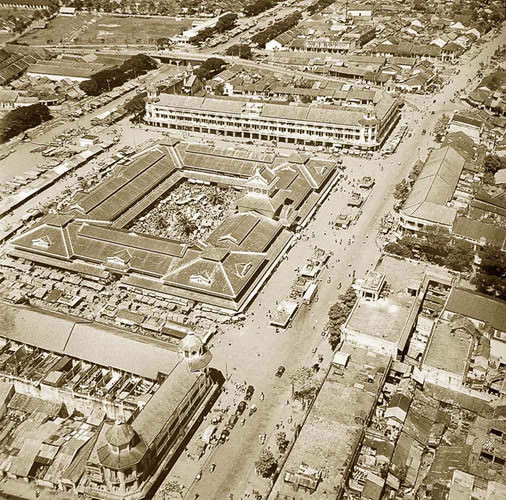 Binh Tay market ( Cho Lon ) from above
Many people often have the question: "Does Binh Tay Market have retail?" – Jackfruit would like to answer that at Binh Tay Market wholesale and most stalls do not retail. When you go to the market, you usually have to buy by line, buy in batches, and the stalls will accept to sell to you.
What does Binh Tay Market sell? Binh Tay Market is famous as the largest wholesale market in Saigon. Goods here are distributed throughout Saigon, the western provinces, throughout our country, and even distributed to both Laos and Cambodia. Currently, the Binh Tay market has about 2,300 stalls, trading more than 30 different groups of goods.
As a visitor, we can visit this massive market and taste some special food that is sold inside the market.
3. Discover the Aquarium Wholesales market 
Luu Xuan Tin ornamental fish market in District 5. There are dozens of aquarium shops close together, specializing in trading all kinds of ornamental fish, aquatic life, and a lot of aquarium accessories. Luu Xuan Tin aquarium market is known by many brothers as the oldest aquarium fish market in Saigon.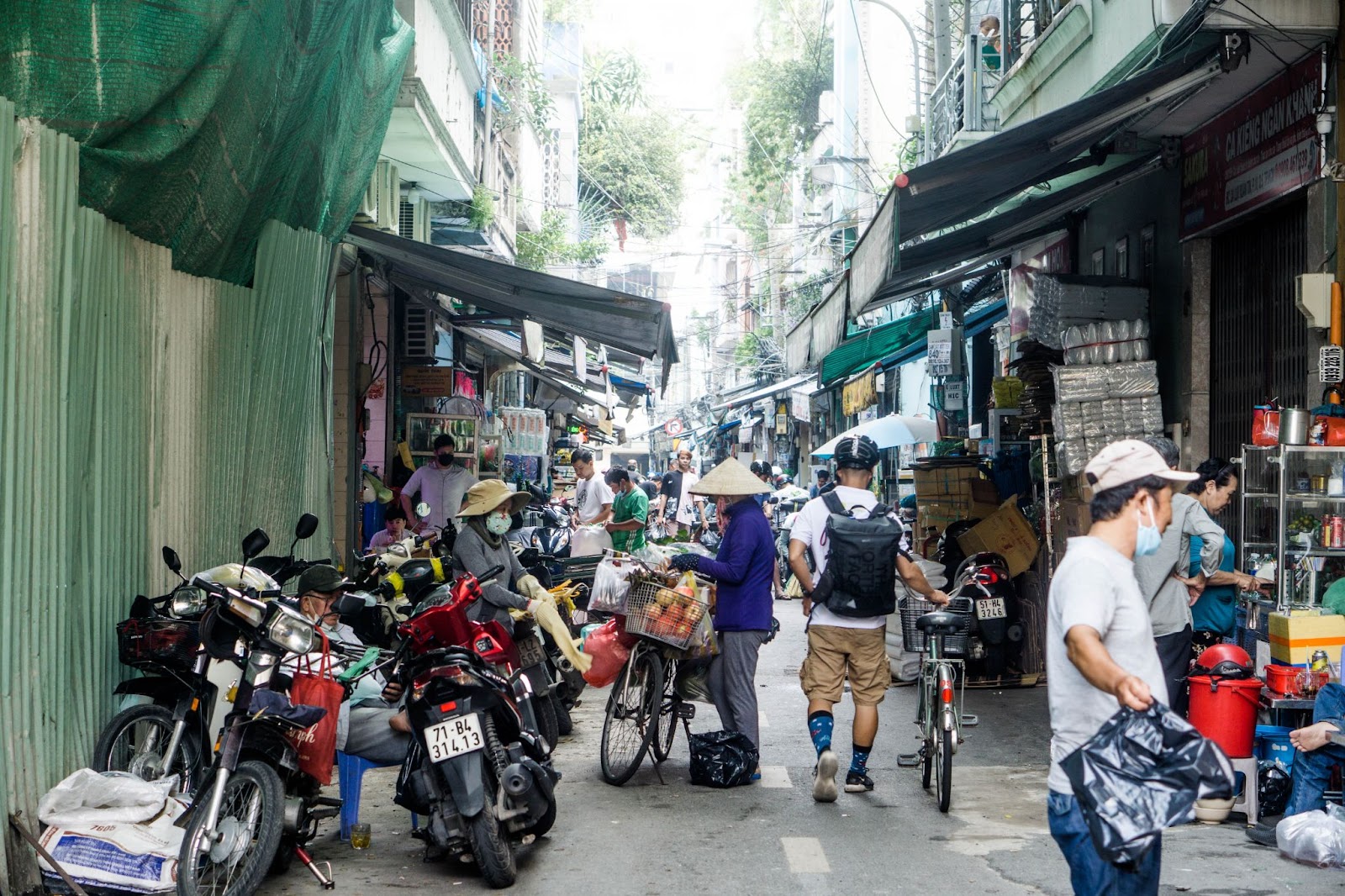 (Alleyway in Aquarium Street)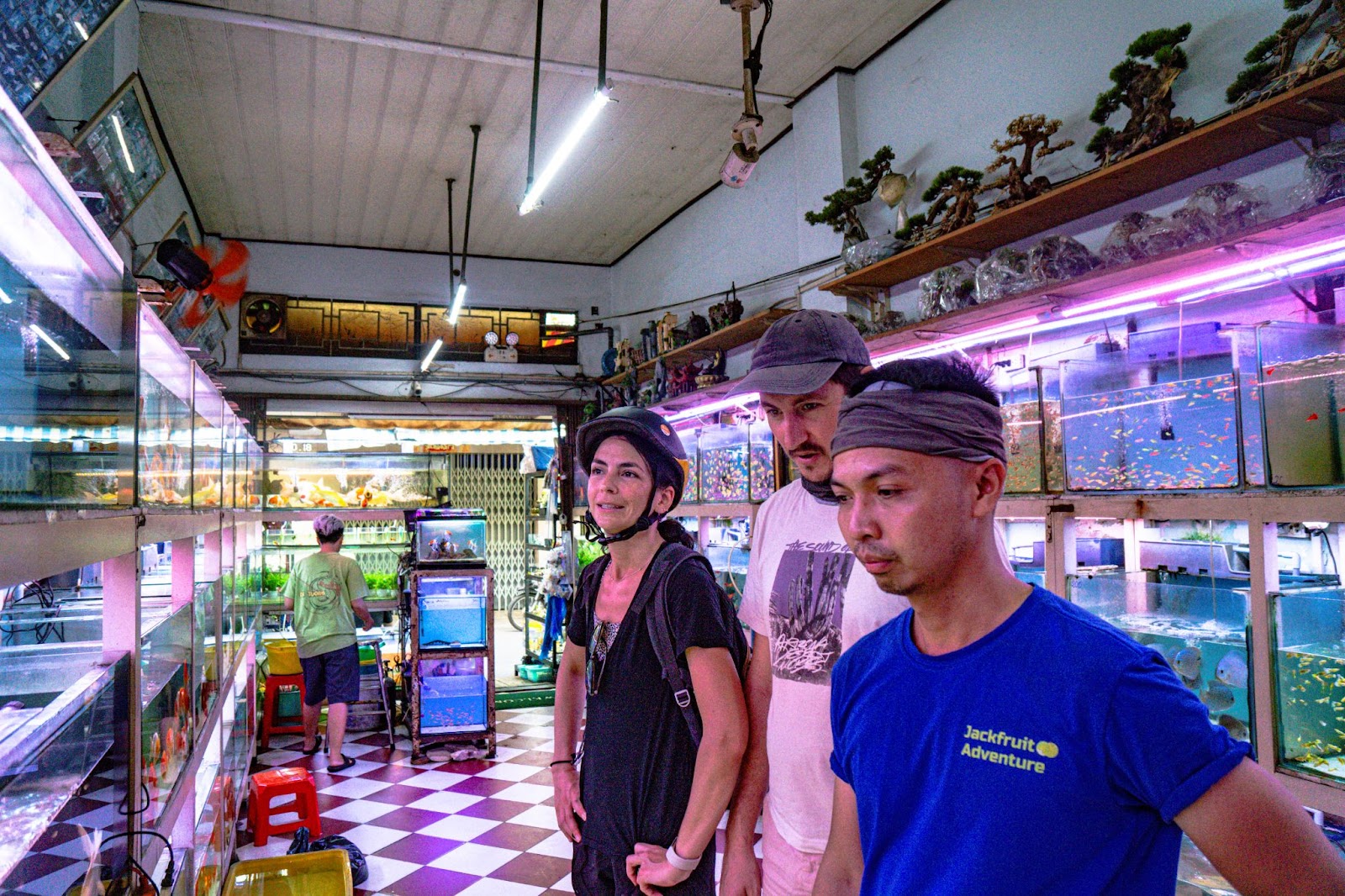 Visiting one of the aquarium stores 
Although Luu Xuan Tin Street, District 5 is only a few hundred meters long, it is almost always busy with trade. Because many aquarists come to support and buy fish accessories.
According to some small traders, this market was born before 1975. This is also the place for the owners of aquarium shops in the HCMC area to come and get goods at wholesale prices.
When you come to this market, you will easily find many different types of fish. The most popular are guppies, three-tailed fish, squawking fish, fairy fish, etc. To more expensive and rare fish such as Arowana, discus, snapper, arhat..
The most expensive is the mighty arowanas. You've probably never heard of this fish. Cheap, a few million. As for those who are especially rare, sometimes billions of dollars are normal.
In addition to ornamental fish, shops on Luu Xuan Tin street also provide machinery and accessories to support fish farming.
Most of the small businesses here will open at about 8 am and close at 6 pm. However, the later in the afternoon, the more customers come to buy. Saigon people often take advantage of coming home from work to shop for equipment for fish farming. Besides, this long-standing aquarium market is also a place to work for young people. Mainly working and taking care of fish species. Salary ranges from 5 to 6 million VND/month (250 USD/month)
4. Get lost in Phung Hung local market
Phung Hung Market (District 5, Ho Chi Minh City) is also known as Capital Market (rich market). This venue is located next to the Art Theater of Sing Boi. Both Chinese and Vietnamese dishes are sold here, but traditional Chinese dishes from more than 20 years without changing owners still make up the majority.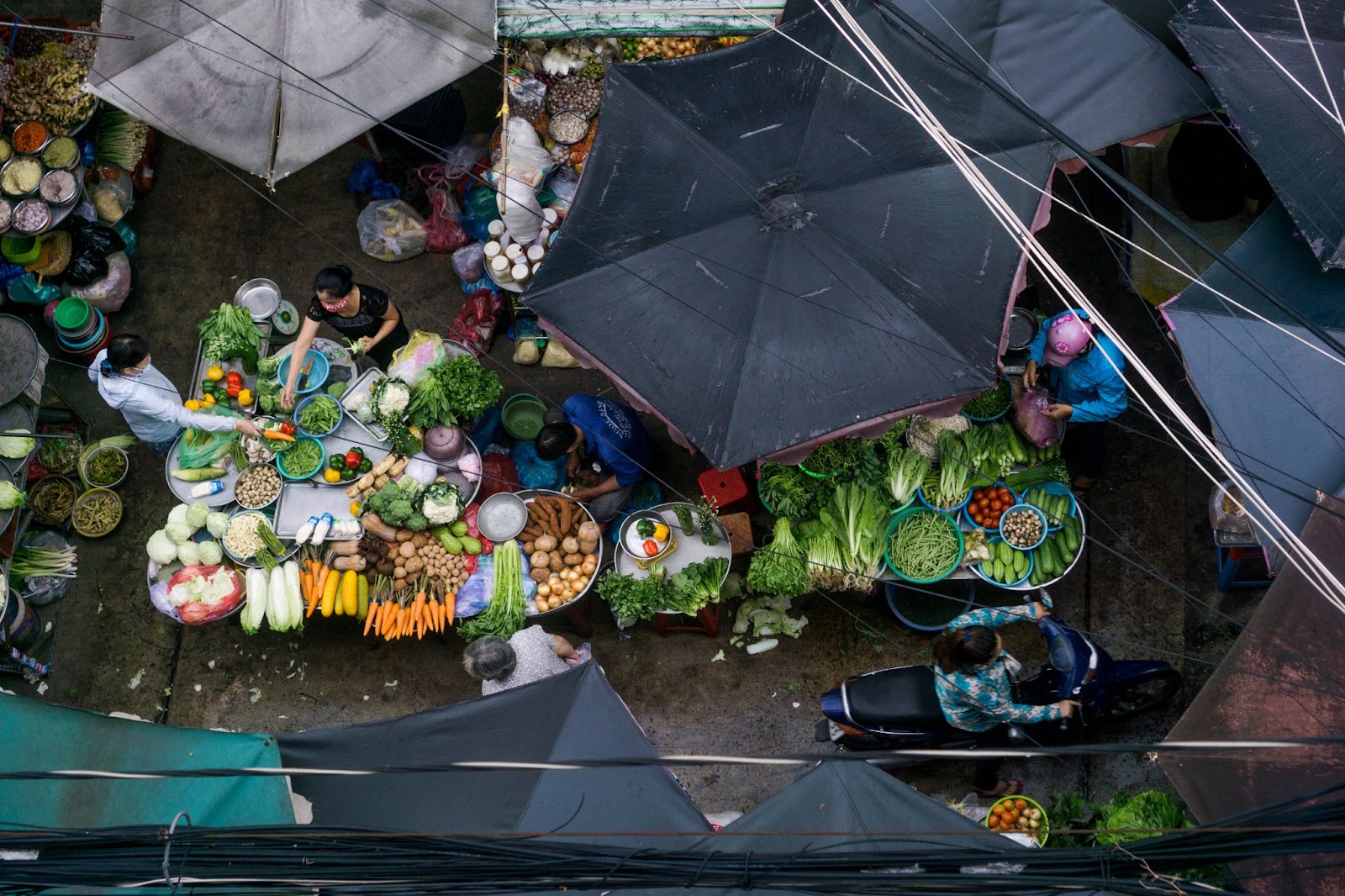 ( Phung Hung market from above)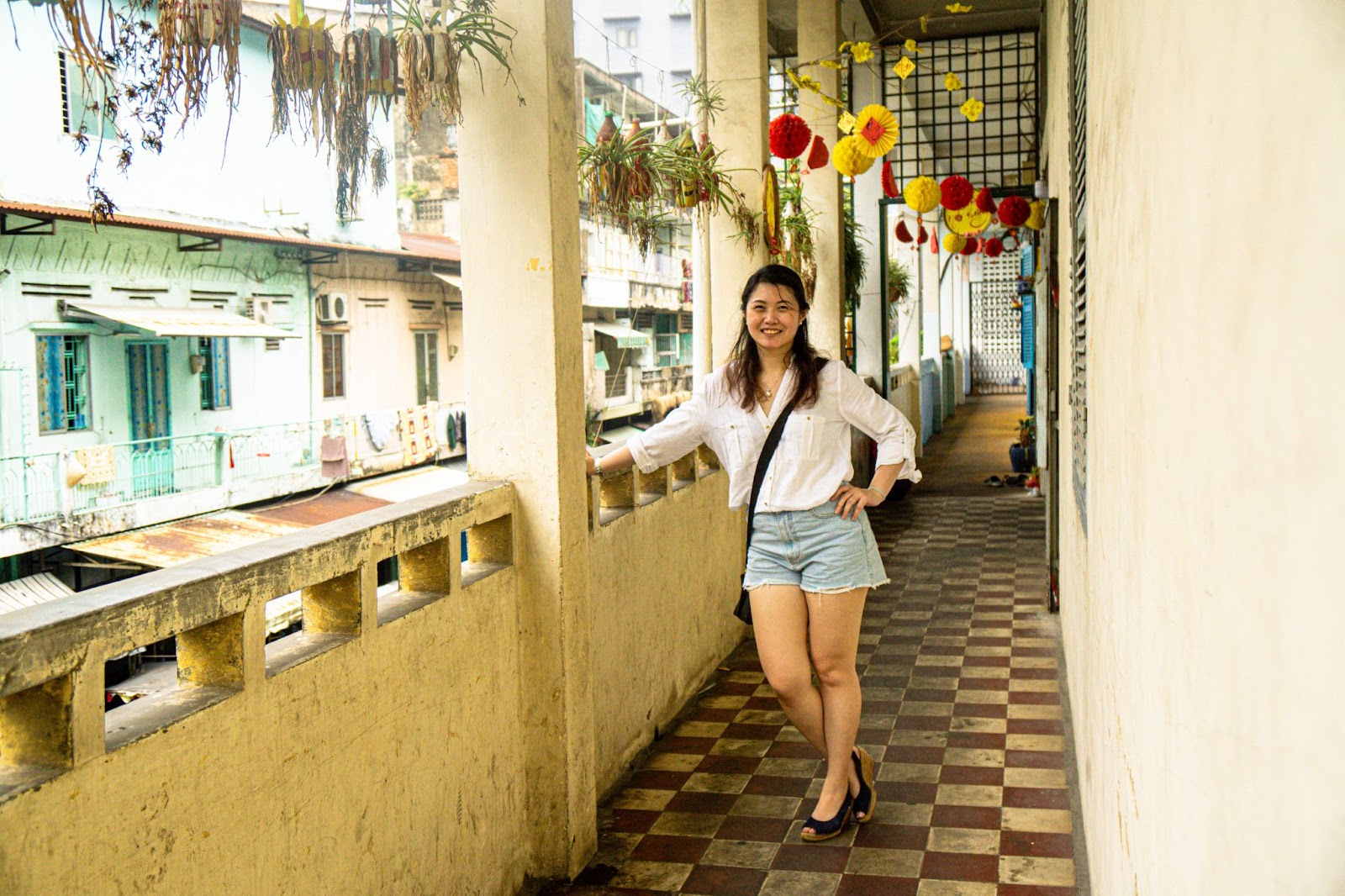 Visitors discover the apartment area along Phung Hung Market
Starting at 2 pm to evening is the time frame for food.
This is the only market in Vietnam that serves a variety of Chinese cuisines, and you can also easily meet many Vietnamese-Chinese people who have lived and worked in this historic land for a long time.
5. Feeling the local vibes at Quan Am pagoda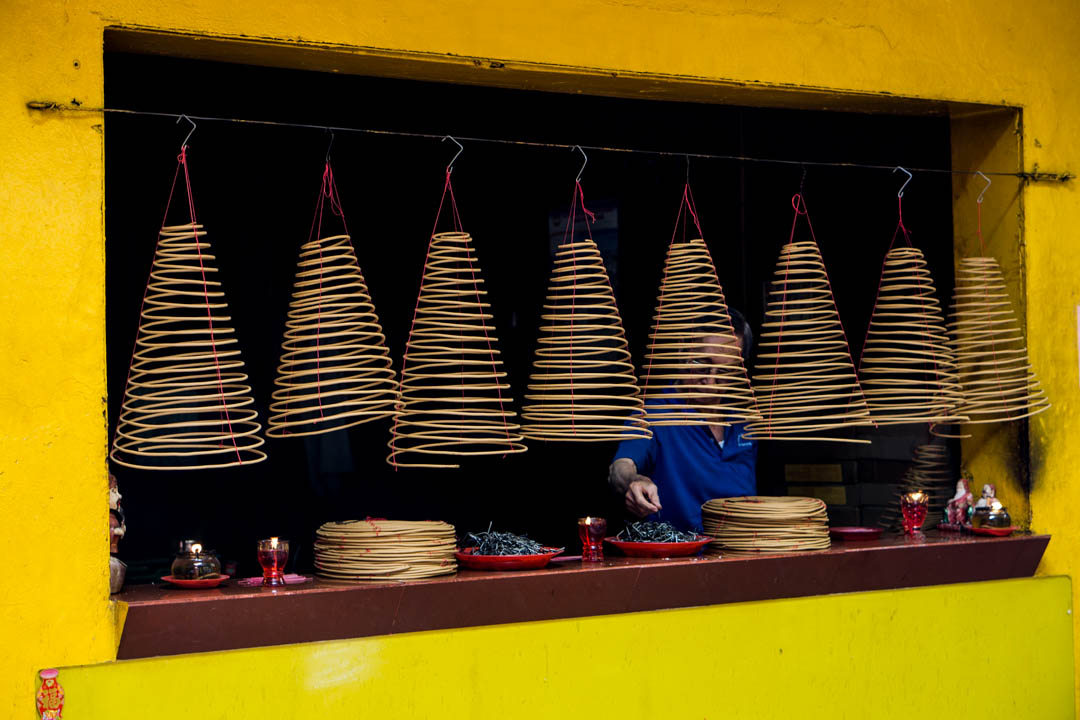 In the heart of bustling Chinatown, Quan Am Pagoda (also known as On Lang's Assembly Hall) is like a quiet note connecting the vibrant rhythm of life with the peaceful spiritual domain of people. Quan Am Pagoda is one of the oldest pagodas built by the Chinese associated with the formation and development of the land of Saigon – Gia Dinh. The temple was built in 1740 (the year of Qianlong of the Qing dynasty) with wooden and stone architecture, built in the style of temples and shrines of the Phuoc Kien people. Besides incense sticks, cooking oil is one of the indispensable offerings when people come to worship at this temple.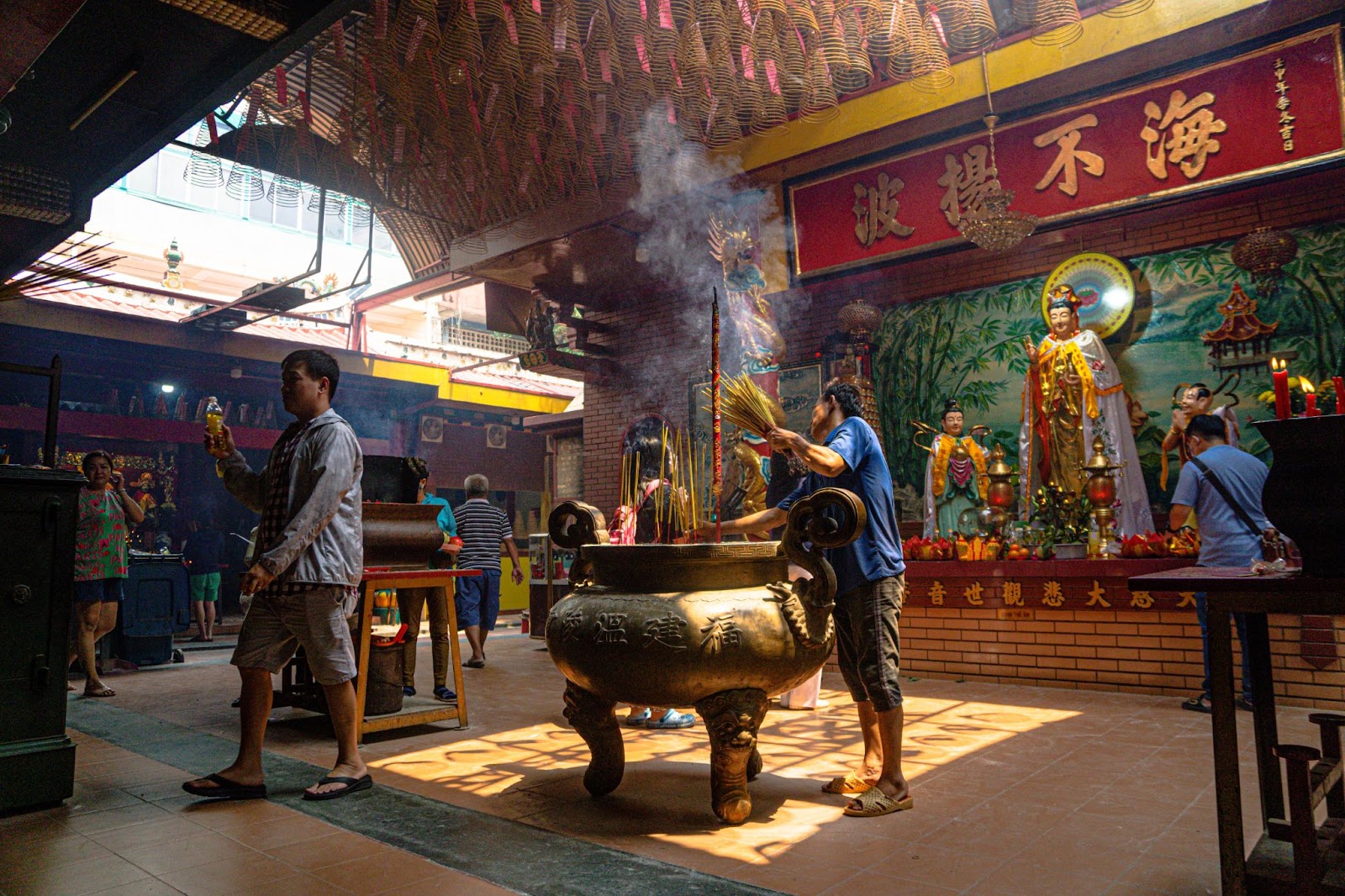 Incense replacing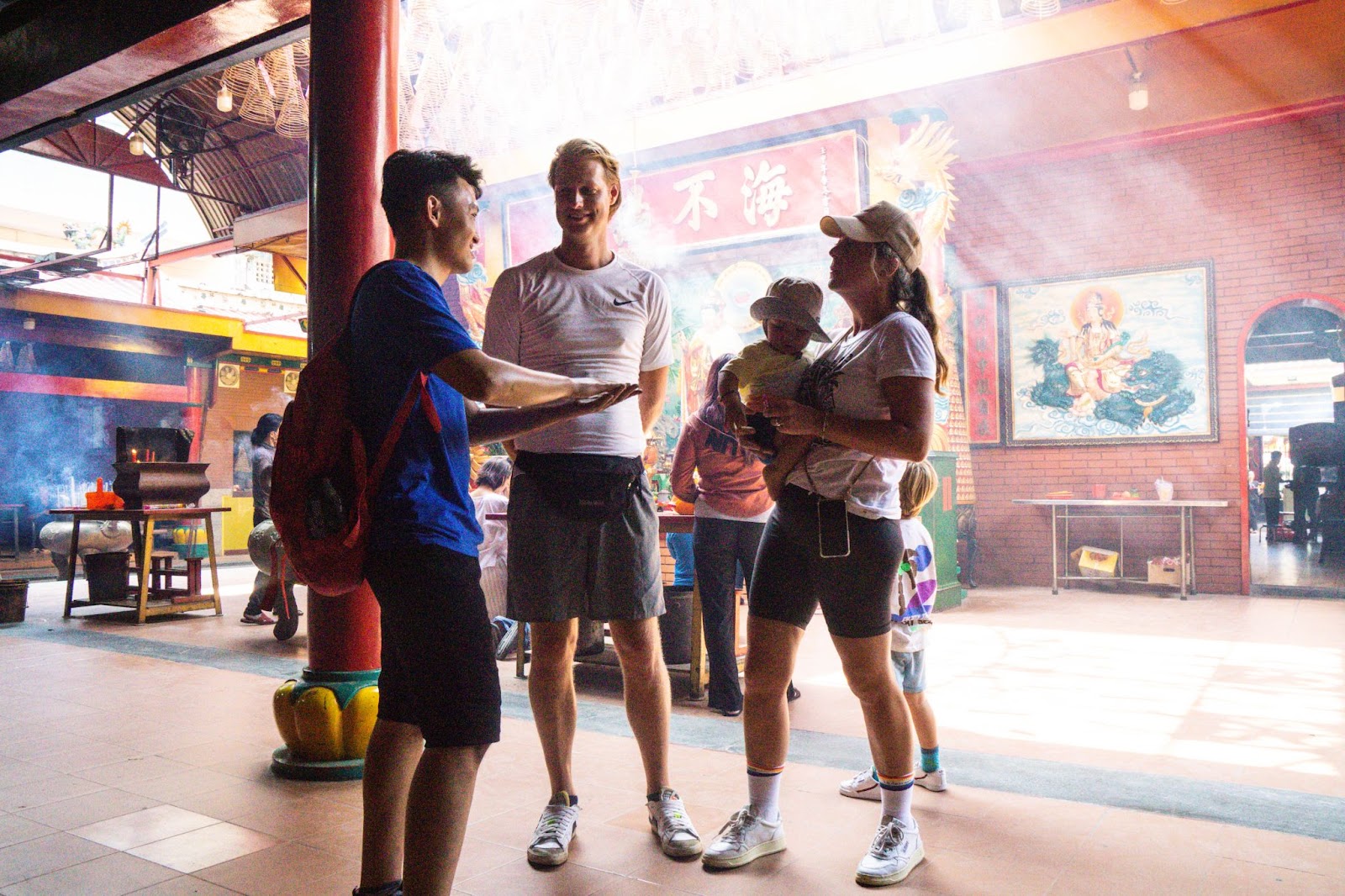 Jackfruit's guide is explaining the visitors the local cultures of Chinese in the pagoda
6. Ca Phe Vot 
Tucked away in the bustling Phung Hung market (District 5), Ba Lu racket cafe has existed for more than 67 years thanks to its unique feature, which is hand-roasted and ground coffee.
Mr. Ba Lu is a native of Hainan (China) who came to Vietnam to settle down, get married, and have 11 children. After his death, the coffee shop was handed over to Ms. Chung Thi Hoang (56 years old) to manage.
According to Ms. Hoang, her father just pushed the coffee cart around the market the day before. Due to many people's praise, decided to sell permanently. From the stage of coffee storage to the way of preparation, all are imbued with the traditional imprint of the Chinese people.
Every day, the shop is open from 2am to 5pm. That means that Ms. Hoang and Mr. Hung, Ms. Hoang's younger brother, have to get up at 1am to make a fire to cook digital coffee that has been stored since the previous afternoon.
The shop is located in a house built in the old architectural style, with the characteristics of the old Chinese quarter. Tables, chairs and concoctions are all rustic and simple. Therefore, the space of the restaurant creates a familiar and extremely cozy feeling.
The characteristic of Ba Lu racket coffee is that it does not use a filter but is completely mixed with a racket. Chairs about 20cm long, and about 10cm in mouth diameter are hung in rows on the wall.
Special coffee shops should welcome guests who are also very "special". People who visit Ba Lu cafe are mainly Vietnamese of Chinese origin. They communicate with each other in an interesting language: Cantonese mixed with Vietnamese.
For those who love learning about coffee roasting methods. A month, coffee at Ba Lu will be roasted 4 times, each time in 2 batches, each batch is about 10kg. Fresh coffee is fed into a long, horizontal cylindrical spotlight with an extended handle for turning. After lighting the fire, the coffee shopkeeper must continuously rotate the roasting end continuously for nearly 1 hour.
7. Wholesale motorcycle parts street
According to people living near this auto parts market, the market has been established for more than 30 years and so far, this Tan Thanh market has only traded in motorcycle parts. Here, you can find almost all kinds of motorcycle spare parts, even spare parts for cars manufactured a few decades ago.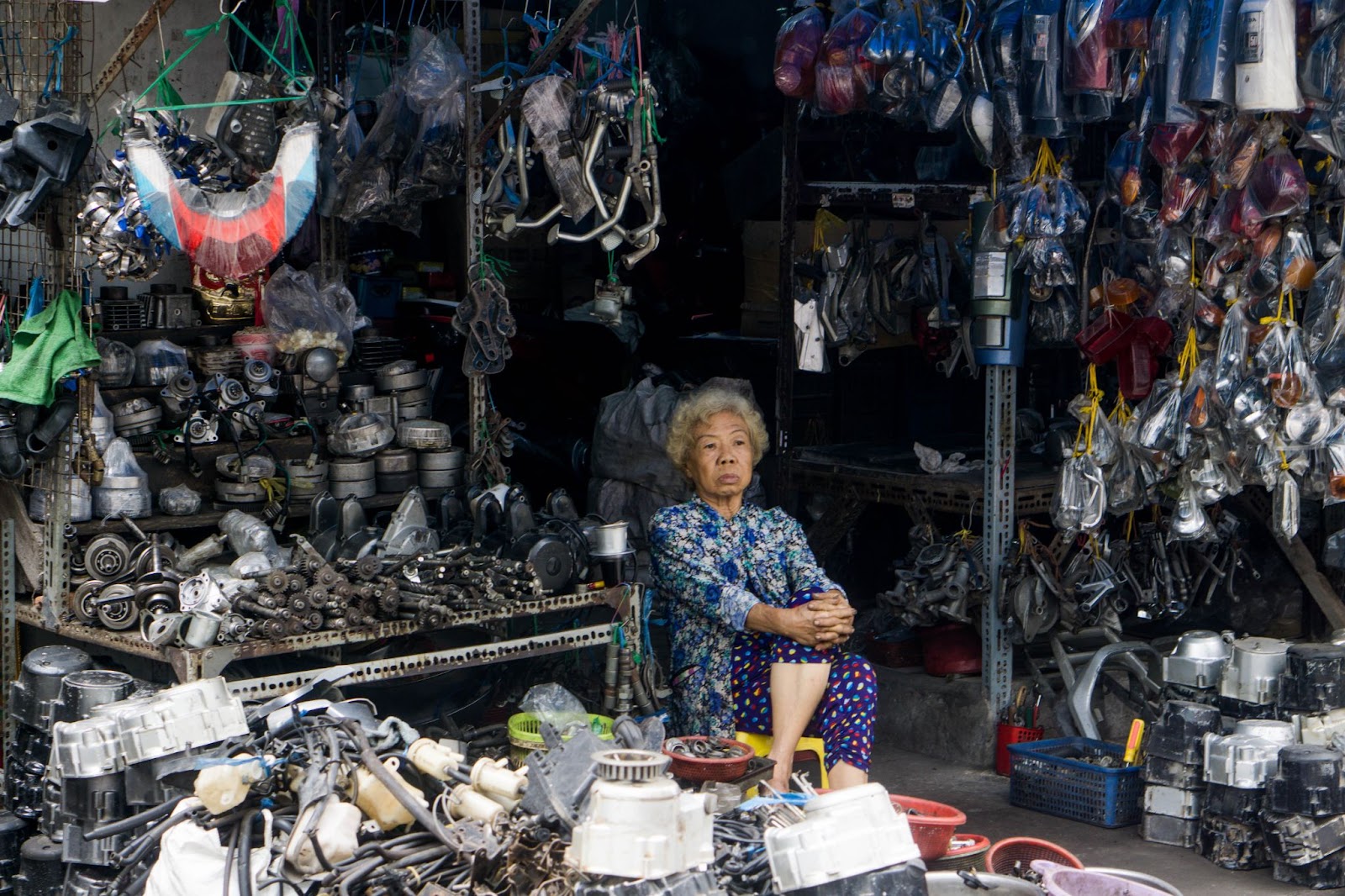 The interesting thing about entering this motorbike parts market is that customers can ride motorbikes through the stalls and once they stop in front of the stalls, they can buy spare parts just by sitting on the motorbike. Each stall only sells a single car / motorbike spare part, creating a typical culture of Tan Thanh market and this also helps customers save more time when shopping.
In addition, because the motorcycle market in recent years has been quite active, motorcycle manufacturers have jointly launched new products to meet the needs of customers. That makes the motorcycle parts market equally bustling.
8. Lantern Street 
Lantern Street in District 5 (District 5), It is an area where many Chinese people have lived and settled for a long time, so the craft of making lanterns was created by the Chinese themselves. According to the Chinese concept, the lantern is to create a festive atmosphere, a symbol of reunion, and it is used in all festivals.
Besides being used to light up and create a joyful atmosphere of the festival at night, Chinese lanterns also have symbolic meanings. If it is a royal lantern used in the wedding ceremony, it is a symbol of joy and happiness, and if it is a white bamboo brace lantern, it is a funeral notice, grief, and mourning.
Vietnam's Mid-Autumn Festival also originates from China, so it is partly affected, so people always hang lanterns on this occasion. In particular, every mid-autumn festival comes.
9. Hao Sy Phuong alley
The apartment is located in alley 206 on Tran Hung Dao Street, District 5, Ho Chi Minh City, commonly known as Hao Sy Phuong alley. This is one of the alleys bearing the identity of the Chinese community living in Cho Lon that has existed for more than 100 years. The house in the alley is built in the form of an apartment, including many small houses arranged on 2 floors with connecting stairs. There are about 200 households living in 66 apartments. The Chinese like to live together, so many households have up to 4 families living together.
( Taking a decent portrait in the alley )
Although only a few steps from the main road, Hao Sy Phuong does not seem to be affected by the noise or dust of the outside, everything here is slow and in no hurry. Stepping into the alley, it is easy to see images of children chirping and playing, old men sipping iced coffee, discussing socio-political talk, and old women talking about neighbors and stories. a movie on television. A few other houses have elderly people gathered to play mahjong. Everything is routine, idyllic but extremely familiar. Although now not only Chinese people but also Vietnamese people live in Hao Sy Phuong, this place still retains its characteristics. You can easily see the Five blessings of Lam Mon pasted in front of the door, and the altars of Thao Dia, Thien Quang, and Quan Cong are very endemic to Chinese culture.
10. Enjoy local Chinese street food
District 5 is one of the central districts of Ho Chi Minh City, the life of the people here is rich and bustling. The cuisine is also the interference and crystallization of many different cultures, especially the Chinese dishes that have lived in this area for a long time. Therefore, enjoying Chinese cuisine is something you cannot miss
Whether early morning, noon, late afternoon or night. From street vendors and small eateries nestled in alleys to crowded restaurants, the culinary discovery option in District 5 offers you unforgettable attractions. Dumplings, crab soup, satay noodle soup, dim sum… are some of the dishes here you can't miss.
11. Learn traditional medicine at Medicine Street – Hai Thuong Lan Ong
Hai Thuong Lan Ong Street is the oldest and largest street in the Cholon area. During the French period, there were 2 streets, the first part was Boulevard Gaudot, the last part was Boulevard Bonhoure. In 1955, two roads were merged into one and renamed Confucius Avenue. After 1975, it changed to Hai Thuong Lan Ong until now.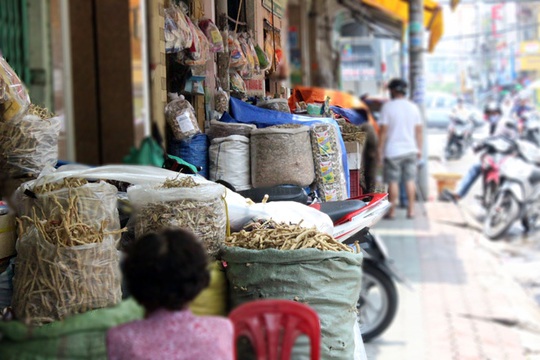 From the end of the 19th century, the Chinese set up warehouses for goods transported from the Te canal to the shore. Here, they built a neighborhood at the intersection of Hai Thuong Lan Ong – Trieu Quang Phuc – Phung Hung. Initially, this was a place to sell a lot of goods. However, people here have the habit of storing traditional Chinese medicine in their homes in case they are sick. After that, the demand of Vietnamese people for oriental medicine gradually "turned" this neighborhood into the biggest Northern medicine city in Saigon, which is also a special feature in the old town.
12. Culture exchange with local Chinese Cho Lon
When you travel abroad, you can follow your itinerary, stay inside your bubble and keep your conversations limited to your travel companions. Or, you can branch out and meet locals while traveling. It's more comfortable to stay with what you know. But in order to get the most out of your travel experience, you might need to stretch yourself. Strike up conversations wherever you go. The rewards are immense.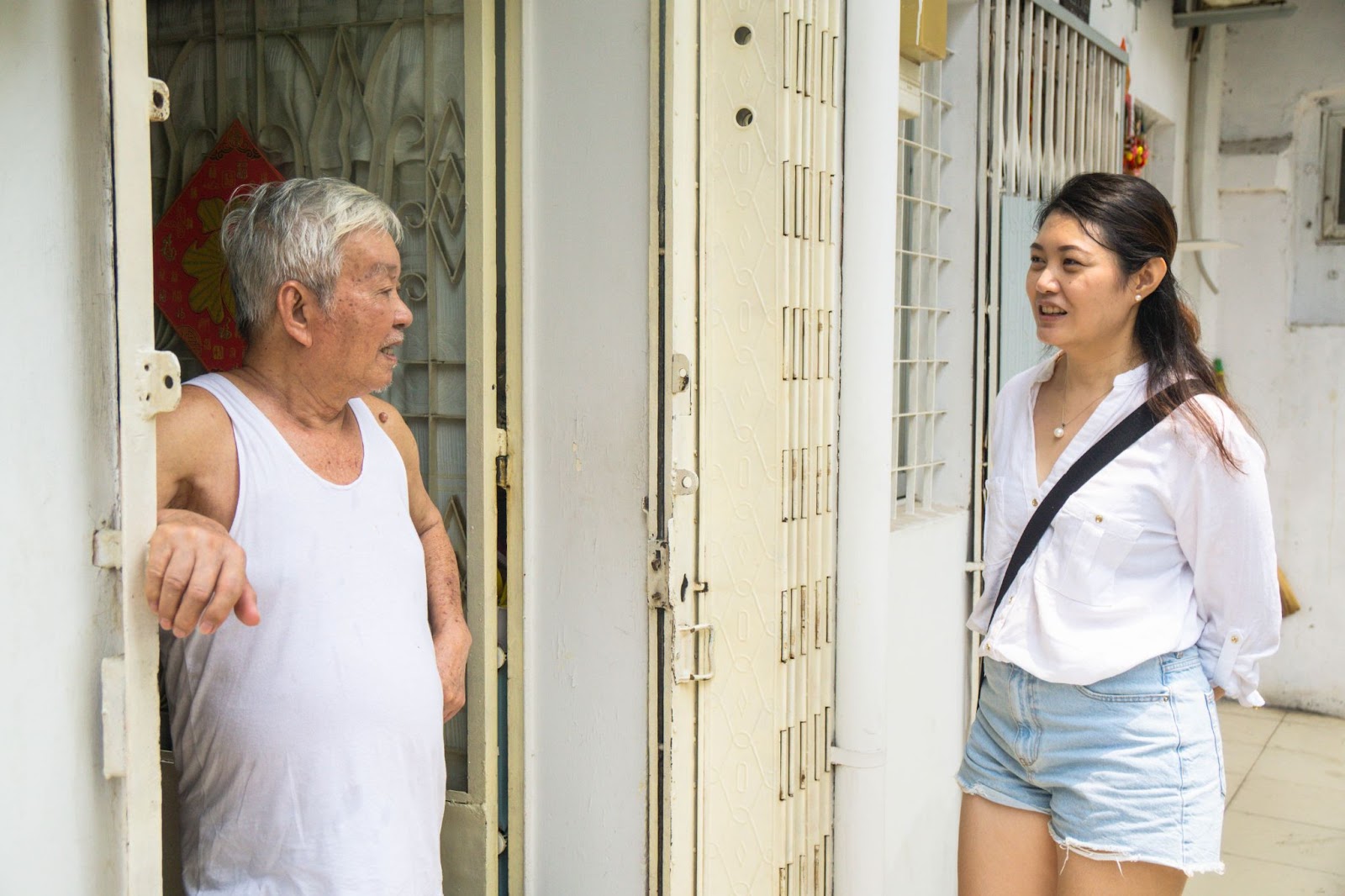 Hwei Ming – A Malaysian girl are having a conversation with local Chinese when joining a trip to discover Saigon Cho Lon with Jackfruit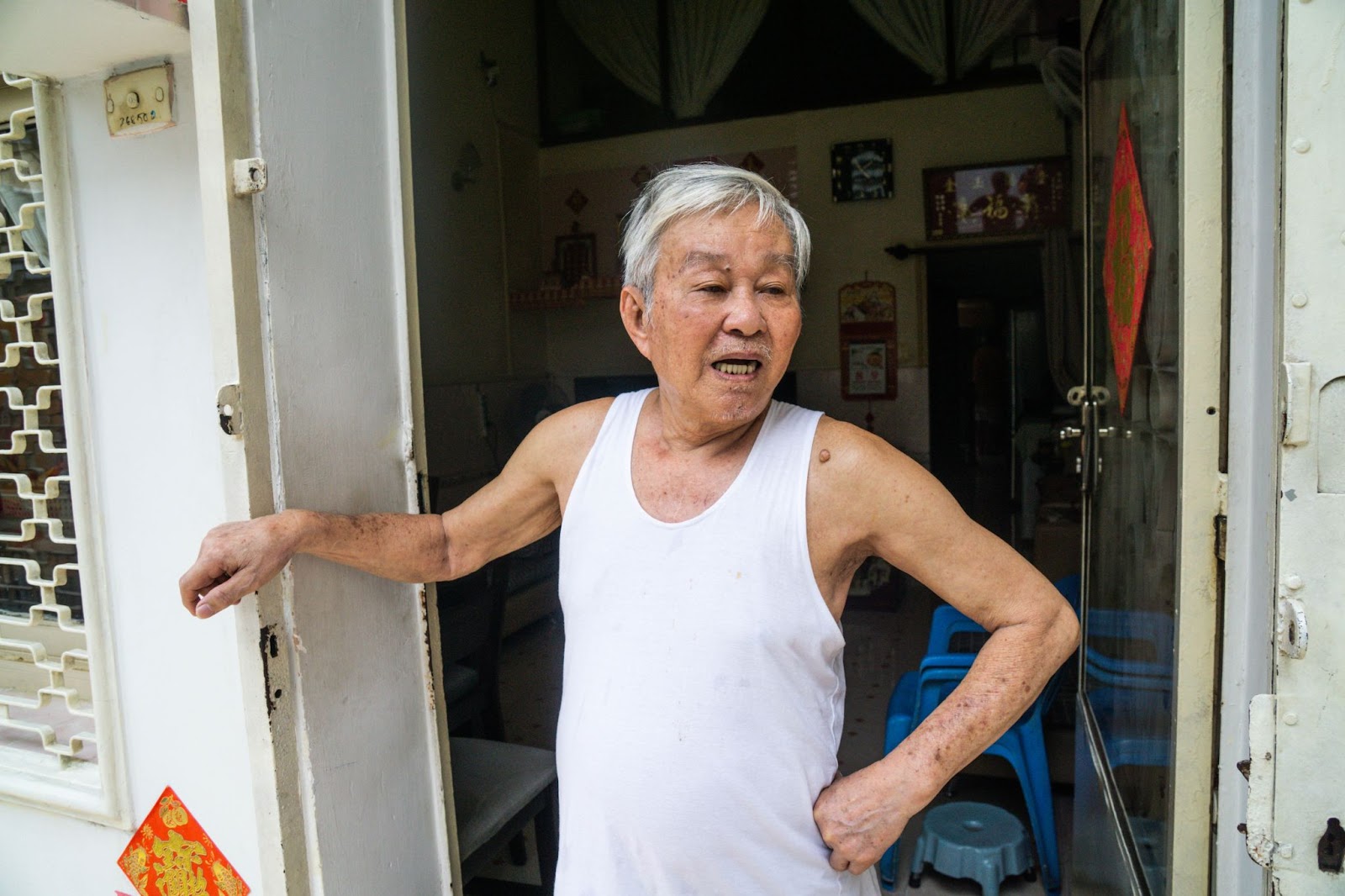 Local Chinese Vietnamese in Cho Lon Chinatown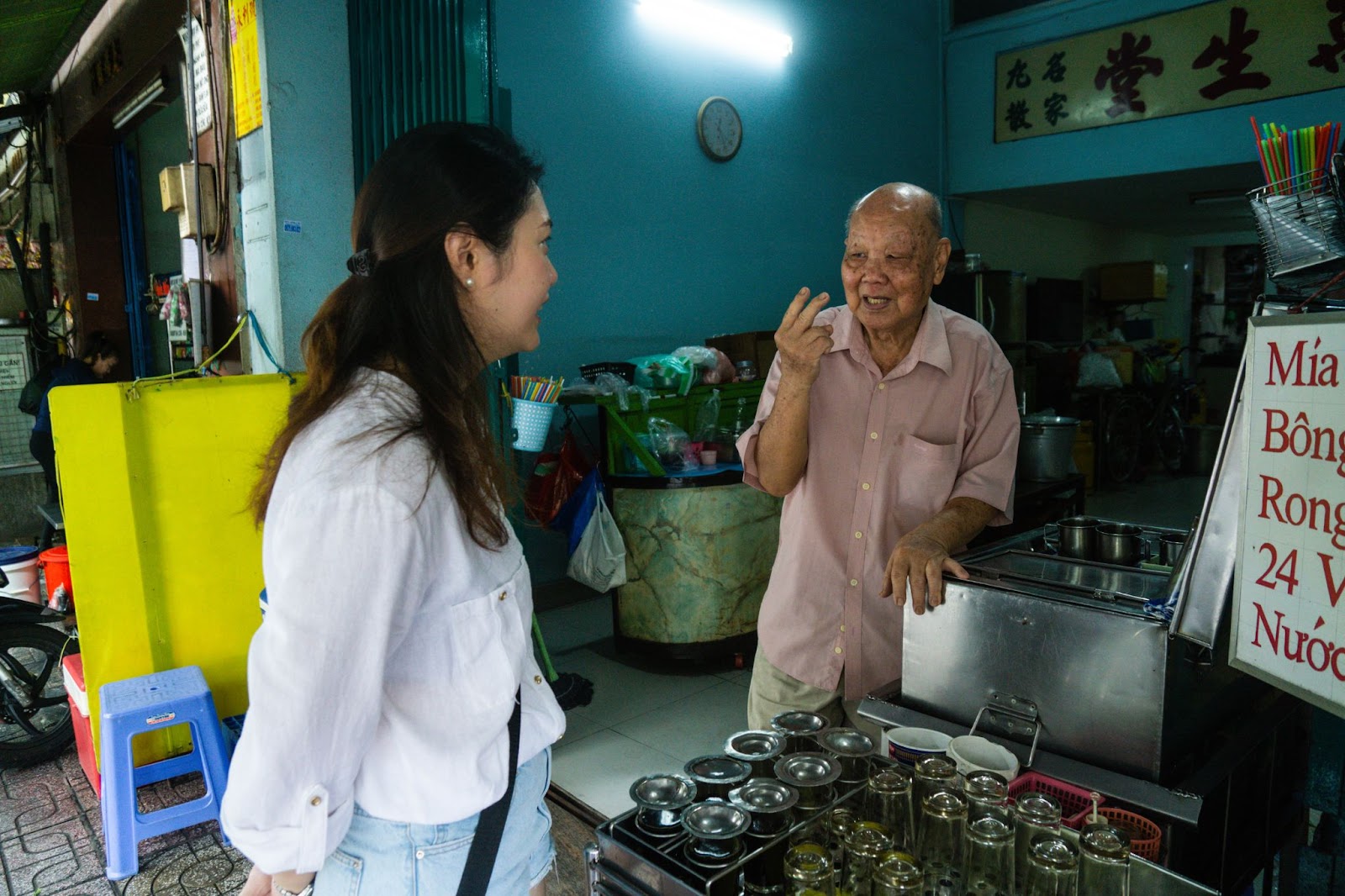 This was one of the highlights of the trip of Hwie Ming to Chinatown
To have a better understanding the culture of the Chinese community in Cho Lon, the best way is to spend time chatting with Cho Lon locals if you can speak Chinese that's great. Otherwise, a local guide is a great bridge.
As reading to here, we are believing you have learned quite a bit about the historical and colorful of Cho Lon Chinatown in Saigon, if you want to have a deep understanding and experience the real life of Chinatown Cholon in Saigon, why not book a ho chi minh cycling tour adventure to explore Cho Lon with us